The classic Golden Gaytime ice-cream is getting a revamp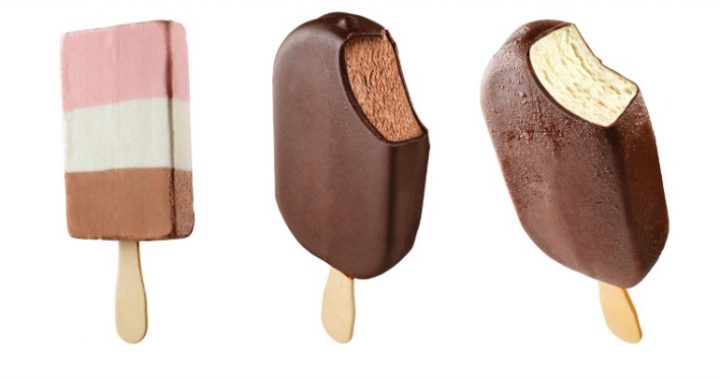 Anyone who has grown up in Australia knows how iconic Golden Gaytime ice-creams are.
Whether you got one as a kid from your local corner shop or treated your own family to one while visiting the beach, it's been a staple in Aussie freezers since 1959.
Now, with summer just around the corner, Streets has announced that a revamped version of the Australian classic treat will be rolled out across the country.
Ad. Article continues below.
You'll know a Gaytime as the scrumptious vanilla and toffee ice-cream that is coated in chocolate and honeycomb pieces.
The treat usually comes on a stick, but that's going to be thrown out the window with the new invention.
Similar to a Maxibon, Streets recently announced that an ice-cream sandwich version of the sweet snack.
Named the Golden Gaytime Sanga, the reinvention is said to combine two of the nation's great loves.
Ad. Article continues below.
Speaking to mews.com.au, Streets marketing manager Scott Mingl explained that it was a no-brainer for the company to launch a new version of Gaytime ice-creams: "It's not often you get to create snacking history, and with the launch of Sanga, we couldn't be prouder.
"We know Aussies love a Gaytime and we know they love a sandwich, so why not give them something they'd go nuts over."
The new offering is currently being rolled out across the country and will set us back around $3.50.
The Sanga will include a block of ice-cream sandwiched between a couple of biscuits and dipped in the traditional crumbs we all know and love.
Ad. Article continues below.
It's not the first time that companies have changed the formula when it comes to our childhood treats.
In 2015, a chocolate version of Gaytimes was launched, confusing shoppers all around the country.
Read more: Can they still call this a Golden Gaytime?
Next, Streets teamed up with Blue Ribbon to release the ice-cream in tub form. Supermarkets across the country sold out immediately as news broke of the new invention.
They've even gone as far as releasing a crumb-only version of the treat, which Aussies can eat either alone or add to their own dessert.
Ad. Article continues below.
This is in addition to a variety of classic Australian biscuits and chocolates which have also been given the ice-cream treatment.
You may recall a Polly Waffle ice-cream that recently hit shelves. Sadly, it didn't live up to the delicious chocolate we grew up with.
Others that have been revamped included Caramel Crowns, Wagon Wheels, Mint Spice, and even Iced Vovos.
Should companies keep reinventing classic treats from our childhood or should they be left alone? What was your favourite chocolate or ice-cream from when you were a kid?