The bun rush is on! It's not even 2018 and hot cross buns are in shops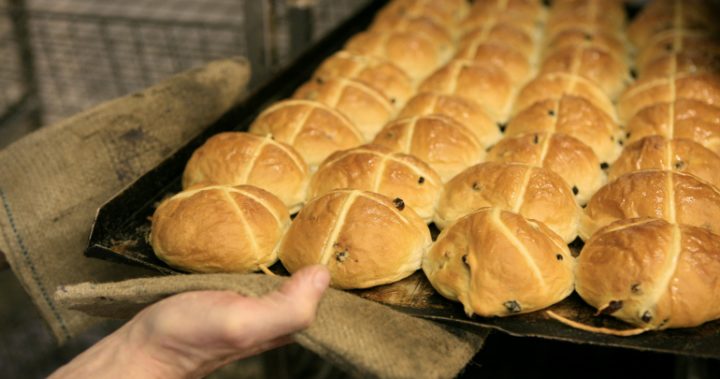 Is your fridge still chockers full of leftover prawns, fruit cake and mince pies?
As most of us reel from the food coma that Christmas induces, while inventing new and exciting ways of using up leftover ham, the supermarkets are perfecting their hot cross bun recipes and getting them in stores early.
Very early.
Yes, the bun rush is officially on, with social media users lamenting not only that Easter eggs are hitting the shelves, but also that hot cross buns are back.
Some complained that it's simply a money grab.
Ad. Article continues below.
Coles and Woolworths will do literally anything for money lol
If that means selling crap like this as 'special' for (lol) 'Easter' and then claiming that people request it, (just cos they brainlessly buy what's in front of them) then good on them.
Not my style, but whatever ????

— Jackie (@jackwackie) December 27, 2017
Yes it is. Total bullshit. I've even seen Easter eggs and we haven't even got to the new year yet.

— Wendy joy allford (@cutoffstream51) December 27, 2017
Ad. Article continues below.
I hate hot cross buns so seeing them so yearly for Easter is a real turnoff for me

— Pat Hall (@PatsPat) December 27, 2017
Other shoppers can't seem to wait, actively asking when hot cross buns will be available.
Anyone know what time @Coles and @woolworths open today?
I fancy some hot cross buns.
Cmon you know you want to stock that stuff front and centre!#HottCrossBuns

— Big in the 80's (@saloonypos) December 25, 2017
Ad. Article continues below.
Quick question @woolworths: when can we expect hot cross buns back in action? Boxing day? I am counting down the days until I can smash a bag of them

— Jodran Leepskin (@jordanleekspin) November 29, 2017
A Woolworths spokesperson told Yahoo7 that "some of our in store bakers have simply been perfecting their wares ahead of the official in store launch next week".
"With Easter earlier this year, we know many of them have been hopping to meet their customers requests to get their favourite hot cross buns back on the shelves.
Ad. Article continues below.
"We are proud to share that customers can officially look forward to freshly baked hot cross buns in all Woolworths stores nationwide, with a brand new variety this year, from January 2."
Coles shoppers will have to wait a little longer, with the supermarket tweeting that hot cross buns are not yet in store. They'll be coming later in January.
Do you think it's too soon to start buying hot cross buns?