Internet divided over new 'Jatz-flavoured' Drumstick ice-creams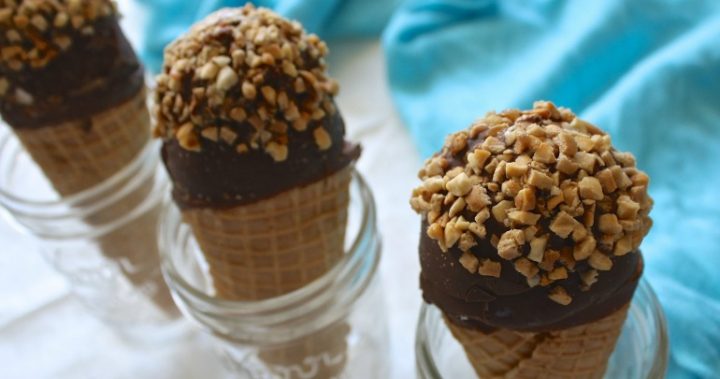 First it was the premium version of Vegemite. Next, the classic Golden Gaytime ice-cream got a revamp.
Now it looks like the beloved Drumstick is the latest Aussie snack to get a makeover. Last night, the official Peters Drumstick page shared a short video on Facebook explaining that they had a new flavour on the market.
While you're probably thinking something along the lines of a gooey chocolate or a super-sweet fruit flavour, they've decided to shock Australian consumers with a rather salty flavour. The latest addition to hit shelves is the Sweet and Salty Cracker flavour, inspired by the savoury Jatz biscuit.
Most people serve the biscuits at dinner parties with cheese or cabanossi, but Drumstick's latest creation mixes it with their sweet ice-cream.
Read more: Vegemite launches new premium version of classic Aussie spread
Ad. Article continues below.
The new treat includes the usual Drumstick cone and ice-cream, with additional golden syrup and salty cracker pieces for added flavour. According to Herald Sun, Drumsticks have been around since the early '60s and sold 98 million cones last year.
They're probably hoping that the new limited edition version of the sweet treat will be a hit, given that summer is in full swing in Australia. When shared online, people weren't initially thrilled with the idea.
One person asked: "Is this an early April Fool's joke?" Another person said: "Stop trying to make Jatz a thing." Others seemed enthusiastic about the idea. One person wrote: "Didn't know we needed this but guess we do."
Another comment read: "Shut up and take my money," while another joked: "When do you reckon the Vita Wheats version will come out?"
Ad. Article continues below.
It's not the first time that classic recipes have been revamp in Australia. Cadbury released a Vegemite version of their chocolate in 2015, with many retailers selling out as Aussies rushed to taste the quirky treat.
Read more: The classic Golden Gaytime ice-cream is getting a revamp
Streets recently launched a sandwich version of the Gaytime ice-cream, while classic chocolate bars such as the Polly Waffle and Wagon Wheel have also been turned into ice-creams.
The new Jatz ice-cream is available in supermarkets from today.
What do you think? Should companies be trying to revamp classic flavours, or should they leave them as they are? Is this something you're interested in trying?