Mother's warning after discovering wire in Coles pizza base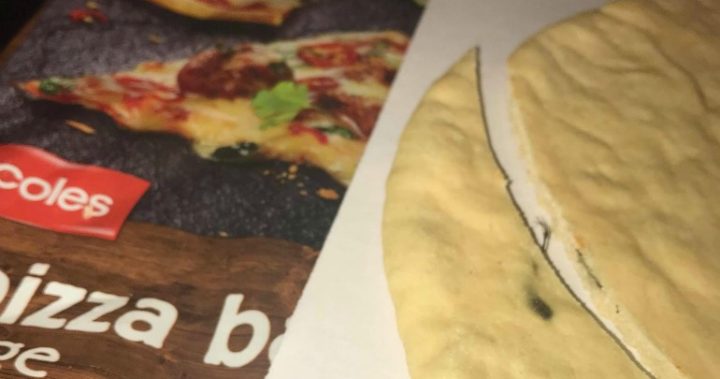 When you head to the supermarket to buy food, the last thing you expect to discover is dangerous wire deep inside your products. That's what happened to a Gold Coast mother, who was shocked when she found a piece of wire in her frozen pizza base that she purchased from a Coles supermarket.
Heather Judson left an angry complaint on the Coles Facebook page, warning others to be careful when purchasing items from the store. She discovered the wire after noticing a green mark on the top of her Coles-brand pizza base.
"Yesterday I purchased a pack of your Thin & Crispy Pizza Bases, and after taking out one of the three bases, I noticed a greenish mark on the top of the base," she wrote. "I was initially frustrated as I assumed that it was mold due to the colour and it was only due to expire in March 2018. But after closer inspection, I was furious to find that it was not mold but a big piece of braided steel wire."
She questioned how the wire ended up in the pizza in the first place, noting that it could cause serious health risks. "How in the heck does this end up in a pizza base which could have been eaten and caused major health complications when digested??? I thought this pack of pizza bases were a steal for $6, but not this much of a steel!"
Ad. Article continues below.
Judson then joked that she gets enough iron from her multivitamin, before asking how many other food products available in the stores also contained dangerous objects.
Coles promptly responded to the lady's message. On Facebook they wrote: "We're very concerned to see this and we appreciate you letting us know. Could you please confirm which of our stores you bought this from? We'd also appreciate a private message with some further photos of what you've found, the barcode, best before date and any other numbers or letters you can see stamped on the packaging?"
Nine News reported that Judson purchased the pizza base from the Pines Elanora store on the Gold Coast.
A Robina mother has blasted Coles, claiming she found a piece of steel wire in a frozen pizza base. @courtneyzagel9 #9News pic.twitter.com/lKXm1yuX8l

— Nine News Gold Coast (@9NewsGoldCoast) January 5, 2018
Ad. Article continues below.
Coles has also responded with a statement. "We have been in contact with the customer and are investigating the matter with our supplier," the said.
It is believed that it could be an isolated incident, with Coles confirming it was the only complaint they've received about the pizza bases.
It's not the first time in recent months that an Aussie supermarket has been caught up in a similar scandal. In December, Aldi was forced to issue a recall of hotdogs after bone fragments and bacteria were discovered inside.
Another incident saw the supermarket selling taps that contained dangerous levels of lead, while exploding pressure cookers purchased from the store also injured several people.
Have you ever found a mysterious object or item in food that you've purchased?