Kraft vs Bega: How to know which is the Aussie-made peanut butter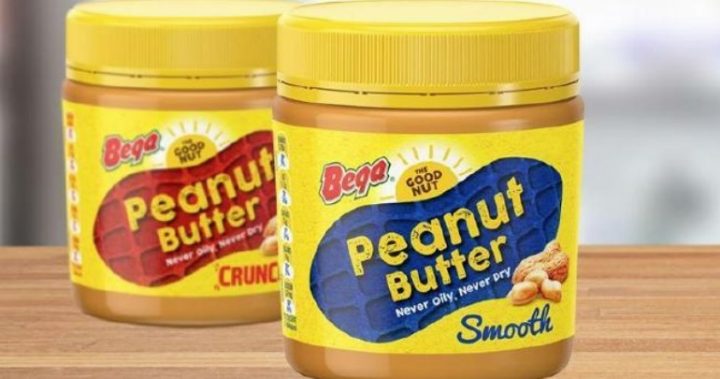 If you thought the world couldn't get anymore more nuts than it already is, think again.
It looks like major brands Kraft and Bega have got themselves into a sticky situation over peanut butter. Yes, you read that right.
Back in 2012, Kraft decided to focus on the North American market, leaving another company, Mondelez, to focus on Australia. Kraft had been operating in Australia since 1926, so you probably remember seeing their items in your fridge and pantry throughout your life.
The problem with that deal was Mondelez mainly dealt with products such as biscuits and chocolates, so our classic spreads such as peanut butter and Vegemite got left behind.
Thankfully, Aussie company Bega, who you may recognise as a big seller of cheese, saved the day and took over the products.
Ad. Article continues below.
Bega has slowly been rebranding Kraft's items since May, with all remaining Kraft-branded products to be phased out by the end of the year.
This means that when you're going to the store and picking up a jar of what looks like Kraft peanut butter, you're actually purchasing Bega peanut butter.
The jar looks identical and it will taste exactly as the Kraft spread you've known and loved for years.
Here's where things get confusing.
Ad. Article continues below.
Earlier this week, Kraft announced that their peanut butter and cheese slices (which were also rebranded), would be returning to Australia: "Kraft, a brand steeped in the life, culture and history of Australia since 1926, is set to appear on Australian supermarket shelves again with the planned return of two favourites, cheese and peanut butter," the company said in a statement.
"The brand has been such an integral part of Australian families that its temporary absence has promptly been addressed by KraftHeinz which has listened to its loyal consumers."
In simple terms, if you want to continue eating peanut butter that tastes like the Kraft spread you've been eating for years, you'll actually need to buy Bega peanut butter.
In their deal, Kraft sold the original recipe, meaning that Bega now owns it.
Kraft also sold the right to their jar design, but are claiming it was only for a limited time. It expires at the end of the year and they want it back for their launch in 2018.
Ad. Article continues below.
They're now taking Bega to court over the iconic design, with Kraft alleging that Bega is purposely trying to confuse consumers with their design.
Bega told News.com.au that Aussies wanting to enjoy the classic recipe should continue to support the Bega-branded peanut butter: "Australian-owned Bega Cheese Limited purchased the original never oily, never dry recipe, as well as the Victorian factory where the former Kraft Peanut Butter was made for 55 years.
"Bega is proud to own and manufacture the same great tasting peanut butter that Australians have loved for 55 years in the exact same factory. The only change to Australia's favourite peanut butter is that it will be sold as Bega Peanut Butter."
Kraft didn't agree, explaining: "A series of historical corporate decisions saw the brand licenced to an external company for a limited period of time under strict conditions. It's always been our intention to continue with Kraft products in Australia."
The battle of the brands is currently taking place in New York, where a judge will mediate on the disagreement, News.com.au reported.
Which brand do you support? Will you purchase Australian-owned peanut butter or opt for the reinvented Kraft spread?