Kmart has shoppers laughing, furious over X-rated blunder on kids DVD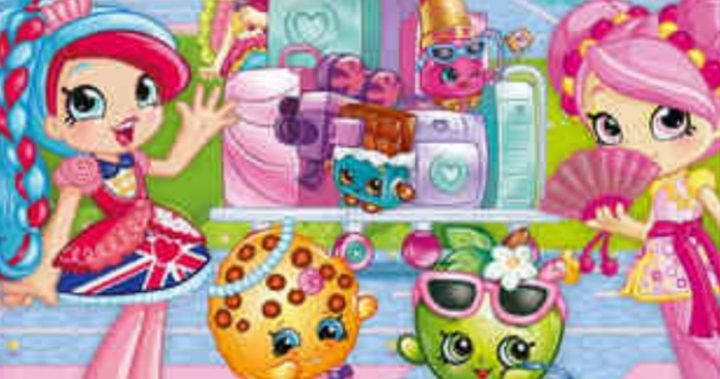 Any grandparent innocently searching the Kmart Australia site for a much-wanted Shopkins video for the grandkiddies would've been in for a somewhat rude surprise today.
What are Shopkins, you ask? They're little plastic collectable characters in the shape of grocery items, most likely aimed at girls given the lurid pink colour-scheming, that've been one of the toy crazes of the year.
Parents have been forking out big-time for the characters that come with own retail settings such as ice-cream trucks and sweets stores.
There's a whole Shopkins World website, plus videos featuring characters such as Kooky Cooky and Cheeky Chocolate, and a range of other accessories.
Clearly, Kmart has an employee that knows of the huge popularity of Shopkins, and a grudge against their employer.
Ad. Article continues below.
Because instead of the usual, cute description to go with the Shopkins World Vacation movie, a distinctly adult version of the video appeared when shoppers searched it online.
"They're jetting off and you're invited! Shopkins travels to an assortment of nternational places and they discover a lot of sex and drugs on their way," the description reads.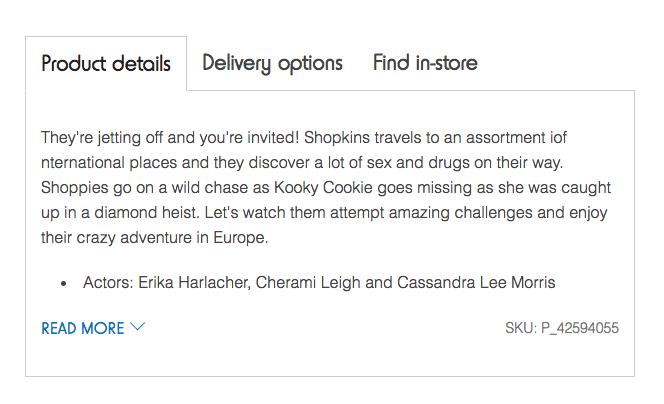 Plenty of parents DID notice the apparent prank, though some took it pretty seriously, according to their posts on Kmart Australia's Facebook page.
Ad. Article continues below.
One shopper called Madi Rose wrote that she was "shocked and appalled" by the description.
"Shame on you, Kmart," she said. "I really hope that's not what this movie shows, it's still rated G!'
Carly Wohllebe said: "Please REMOVE the Shopkins Vacation DVD description".
Others took it less seriously, with one shopper dubbing it the "Tarantino version" of the Shopkins movie, and others suggesting the store chain check its product descriptions a little more closely in future.
At least one claimed to have taken the description at face value, only to be sorely disappointed at the G-rated fare.
Ad. Article continues below.
Kmart has since removed the product from sale but hasn't yet responded to any of the Facebook comments, joking or otherwise.
Have you ever seen a funny product description? Or bought something that was definitely not as described?