Cheeky prisoner leaves hilarious review for overnight jail stay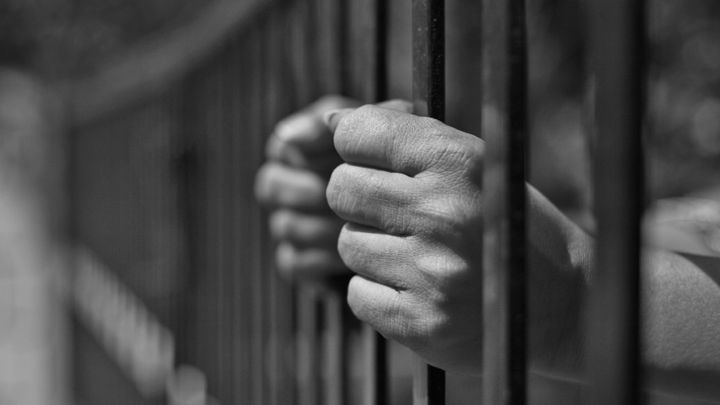 No one really expects police lock-up to be a pleasant experience, but one Scotsman has let rip on the poor service he received.
The review, which Glasgow resident Mark Patterson posted with a Facebook "check-in" at Police Scotland, railed against the lack of entertainment and room service.
It began with a one-star rating, before Patterson stated that he asked for an upgrade and "got some tap water in a plastic cup and literally told to f*** up". Patterson's $675 Gucci shoes were also allegedly confiscated during his stay.
"No breakfast offered, no in room entertainment, not allowed your phone in the room, no chargers" [sic] were just some of the complaints levelled against Police Scotland. There was also no toilet paper available when Patterson "needed a s***e".
"Was told to strip but wasn't even offered a drink first," he complained, adding that there was no onsite bar.
Ad. Article continues below.
When Patterson asked the officers for "room service", he received a 2015 copy of OK Magazine.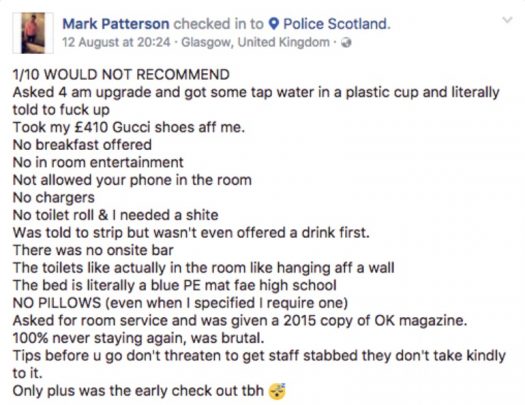 It's unclear exactly what Patterson was jailed for, though the preceding pictures on his public Facebook profile indicate that he was enjoying a night out with friends. Patterson did, however, have a tip for anyone who might find themselves being held overnight.
Ad. Article continues below.
"Don't threaten to get staff stabbed they don't take kindly to it," [sic] Patterson wrote. "Only plus was the early check out [to be honest]."
Since being posted on Saturday, August 12, the review has gone viral, receiving nearly 4,000 comments and shares on Facebook. Many people have taken the opportunity to tag friends in the comments and ask if they had similar experiences during their time in the Glasgow jail.
"The Kent ones great they give you theeeee best microwave breakfast an let you have a lie in till they can be bothered to let you out," [sic] one man wrote of his own police encounter.

So far Patterson seems to be enjoying the attention, posting articles about his review to his Facebook profile and suggesting that he deserves a spot on the next season of Big Brother.
 Do you think the review was all in good fun or a bit distasteful?