Confessions of a first-time cruiser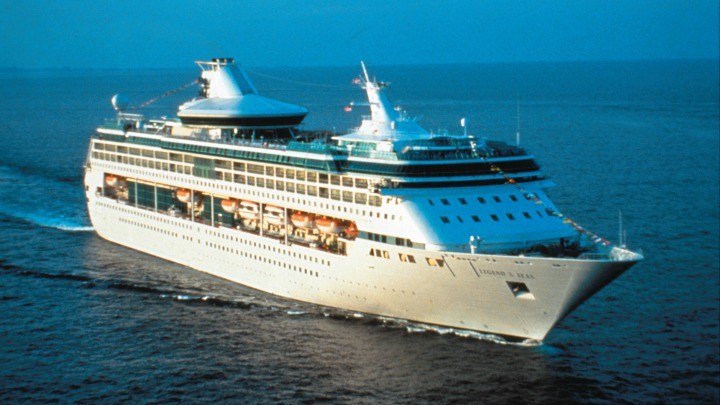 So here's the thing – I've always wondered about the attraction of cruises. Why would anyone want to float about in a giant boat, stuck on-board with the same people, unable to escape? Many of my friends and acquaintances have travelled on cruises – for some, it's the only way to travel.
I always say that you shouldn't bag something out until you try it, so when the Royal Caribbean ship Legend of the Seas offered a special two-day "taster" cruise to celebrate its new home in Brisbane this month, I put my hand up, grabbed my passport and confused husband, and set sail.
While a two-day cruise doesn't give you the full experience as there are no stops, it certainly gave us a taste for this style of holiday, and there were lots of surprises in store.
Having never even set foot inside a cruise ship, I was surprised by how much it looked and felt like a hotel. If it weren't for the life-rings and glimpses out to sea, standing in the atrium of the 11-floor ship, you'd never know you were at sea.
Our room was much bigger than I expected – no smaller than a busy city hotel – with a full ensuite and balcony with enough room for a table and chairs. It wasn't until we were called for the emergency-drill and told to huddle up with the people allocated to our life boat that it sunk in that we were, in fact, not in a hotel, but on a ship!
Ad. Article continues below.
Setting out from Brisbane was magnificent. If it hadn't been for the bloke who hummed the theme song from The Love Boat, which was then stuck in my head, it would have been perfect. The sun was low and people lined the riverbank, waving, as our enormous Legend made a tight about-turn with a sturdy tugboat by our side. Who ever said cruising wasn't adventurous? Passing underneath the twin Gateway bridges with just seven metres to spare certainly gives you a thrill!
My favourite part of a holiday is usually the journey, but with a cruise the holiday is the journey, and I soon found that I rather liked being able to walk around deck, have a drink and gaze out to sea while we were on the move.
Any time I've asked a friend to elaborate on the reason they just love cruising, they've said the same thing: the food, the food! We were a little unsure at first, but soon realised that food was available at any time hunger struck. The Legend of the Seas has five dining options, three of which are inclusive with your package, plus two that you pay extra for.
Ad. Article continues below.
The queues for food weren't too bad, but with thousands of Aussies on a two-day break, the bar queues were another story! As promised, the food was excellent and diverse. The main a la carte dining room, Romeo & Juliet, is staggering in scale – two floors and seating a thousand people! When the crowds got too much, we enjoyed a private meal in one of the exclusive restaurants, Izumi, which had a wonderful Asian fusion menu.
Perhaps the thing I enjoyed most about the cruise was the thing I feared the most – the fact that you are "trapped" on the boat. I quickly realised that the ship was more like a small village, with plenty of things to do. We contemplated rock climbing for about one minute, then took up the putt putt golf clubs instead. My husband went to a towel-folding demonstration while I was in the spa having a blissful massage (which, with the combination of the gently rocking sea was heaven). We also managed to fit in a yoga class, cocktails and the shows in the atrium and the theatre. But somehow, we mostly managed to spend a lot of time gazing out to sea, flopped out on a lounge chair, taking some real time out.
Would I cruise again? I have to admit, I'm converted. Not only is it easy, it's a lot more fun and relaxing than I had imagined. You have the choices and freedom to whatever you fancy, at that moment in time, which is not something you can always say on a holiday. I loved the fact that meals were included and snacks were available, making it very affordable – what can I say? We love to eat!
Would I go cruising on every holiday? Probably not. But I'll definitely be back for more.
Are you a cruiser? Why or why not? Where would you like to cruise to?
The writer travelled with assistance from Royal Caribbean. To find out more about Legend of the Seas, click here.