Comedian gets agro with Pauline Hanson over photo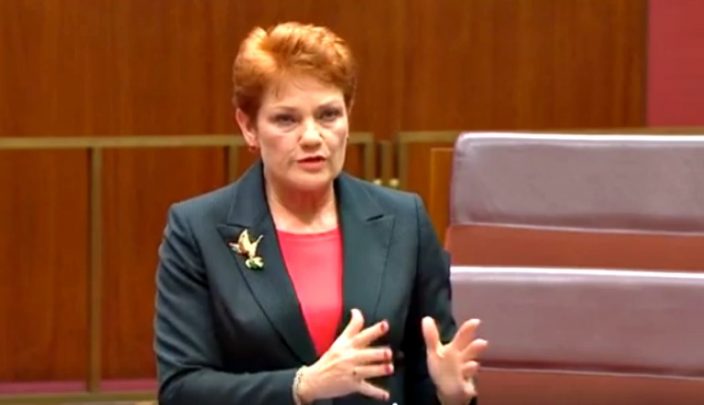 A post that Senator Pauline Hanson posted on social media has made one comedian agro, and that's Agro.
The pint sized vocal puppet, voiced by Jamie Dunn, appeared in a photo wearing a One Nation cap, which then led to social media going into overdrive, calling the popular 90s icon racist.
Others simply couldn't believe their eyes. 
We regret to inform you that the Agro is racist.

— Tim Norman (@TimGNorman) July 17, 2017
Ad. Article continues below.
Don't believe for one minute that Agro is a One Nation supporter. He wouldn't … he couldn't!

— Jedi Sprocket (@janjewson1) July 17, 2017
Dunn, however, was quick to say Agro is no One Nation supporter. He admitted he did pose for the photo, taken months ago, although it was first posted in June.
"He's not running for One Nation, they've already got too many puppets in the ranks," Dunn said to HuffPost, confirming the image, pictured below, was not an endorsement. 
POLITICS GOT YOU AGRO? | One Nation candidates are out, about & ready to listen so if you see an orange shirt or cap stop for a chat #auspol pic.twitter.com/5otcX2mbbz

— Pauline Hanson (@PaulineHansonOz) July 17, 2017
Ad. Article continues below.
"Agro and I were walking around the Caboolture show a couple of months ago and a guy asked if Agro would put his cap on for a photo. Agro is very refugee, indigenous, gay and lesbian friendly. I don't think (the party) would be interested in him."
The controversial senator has often used social media to show her thoughts on everything from sharia law to immigration.
Her comments on vaccinations earlier this year caused an uproar, but she hasn't been shy of any topic. 
Recently she was accused of having a gutter mouth, while she's also said Aussie kids are badly behaved. 
Do you think there was a problem with her using the photo, considering Agro posed for it?