Coles and Woolworths defend their milk prices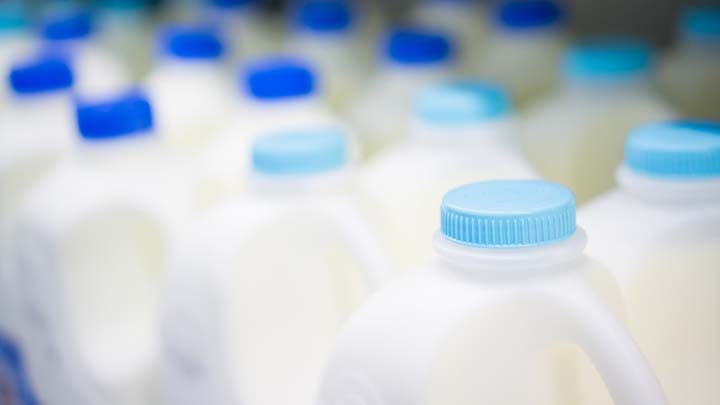 The big supermarkets have been called out for their $1 milk prices throughout the past year as the plight of the dairy industry came to the forefront of our minds.
But during a Senate dairy industry inquiry in Melbourne, Coles and Woolworths defended their prices – suggesting their $1 milk was not to blame for the downturn in the dairy industry.
The heads of the supermarkets faced a grilling by senators over their milk prices.
Read more: Dairy farmers dealt another low blow
Ad. Article continues below.
The ABC is reporting that Woolworths head of buying Steve Donohue told the hearing it was "impossible" to blame the issues faced by dairy farmers on the $1/litre milk.
"Woolworths' own-brand milk accounts for just 3 per cent of Australia's total milk production, so 96 per cent of Australia's 9.6 billion litres of milk goes into other products," he said.
"These are important numbers to provide perspective that no one factor is solely responsible for the state of the dairy industry."
Coles on the other hand spoke about the change in customers buying the $1 milk.
"We have seen customers buying more proprietary brand and less Coles brand," general manager of Coles dairy Charlotte Rhodes told the hearing.
Ad. Article continues below.
Read more: Scott Morrison and the ACCC take aim at dairy industry
If you're one of the people paying more for milk to help our dairy farmers, you're not alone.
Queensland Labor senator Chris Ketter questioned Coles director Alastair Jordan over a survey which showed 66% of us were willing to pay more to help farmers.
Jordan said Coles had 52 different fresh milk products in one and two litre ranges.
Ad. Article continues below.
"So what we do is provide our customers with a choice of any type of value proposition that they may choose, or any type of marketing or specification they may choose," he said.
"That's what we seek to provide, is the choice for our customers to choose themselves, and we stock the shelves accordingly."
Read more: While dairy farmers suffered, Murray Goulburn gave themselves a pay rise
Tasmanian senator Jacqui Lambie was having none of it.
She didn't beat around the bush with her grilling of the supermarkets.
Ad. Article continues below.
"You're making enough money for your shareholders, and what you're doing is throwing farmers on the crap pile, and it's not just milk either," she said to Donohue.
What about the dairy farmers?
Well, Queensland dairy farmer Greg Dennis told the senators he was no longer selling to the supermarkets.
Instead, he's opted to start his own brand and sell to independent retailers.
"The sale of $1 milk returns less to the farmer than the global commodity price," he said.
What do you think of the supermarkets' responses? Do you think the milk prices are to blame for the dairy industry's troubles?