Clive Palmer says sorry... but only to some Australians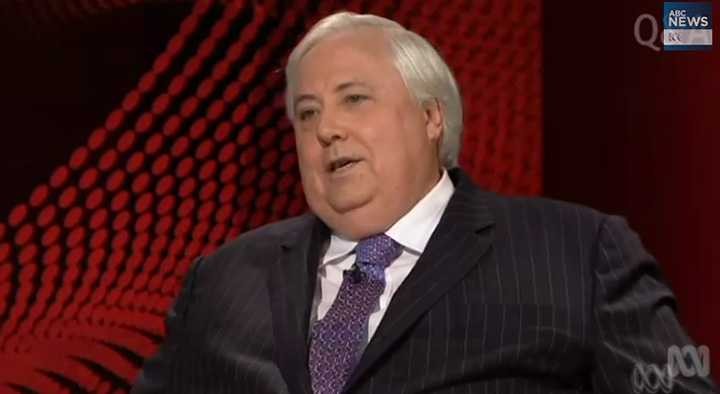 Clive Palmer today has issued an apology. But only to parts of the country, and only for the behaviour of former members of his party.
In his letter to Men and Women of Tasmania, and of Queensland, Palmer has apologised for each of the Senators elected under the Palmer United Party banner, Jaqui Lambie and Glenn Lazarus.
Both have left the Palmer United Party, and have formed their own political party – namely the Jaqui Lambie Network, and the Glenn Lazarus Team. Both have also been embroiled in controversy of late. Lambie released an extremely odd video criticising Barnaby Joyce, while Lazarus used some questionable language and made bodily threats against Prime Minister Tony Abbott.
Here's the content of Palmer's letter to Tasmanians:
I feel it is important to write to you and set out the successes Palmer United have achieved in the Federal Parliament since the 2013 election.

I also want to apologise to all voters in Tasmania for the fact that our Tasmania senator, elected only because of Palmer United votes, has let you down by withdrawing from the political battlefield when it got too hot for her.

She let you and all Tasmania down by resigning from the party to pursue her own interests. We are all sick of politicians saying one thing before an election and acting differently afterwards.

Unfortunately, at no time while she was a member of the Palmer United Party did she have any practical proposal on the table that she wanted to implement for Tasmania.

We had planned as a team to use our balance of power in the Senate to bring about real change for Tasmania, but Jacqui Lambie put an end to that and betrayed all those who voted for our party.

I am sorry she let you all down and proved to be an unreliable, untrustworthy person. Please review our list of achievements on the back of this letter. It is self-evident how Palmer United has made a real difference.

We are presently preselecting a great team of Tasmanians to stand for Palmer United at the next federal election and I trust our record will encourage you to vote for Palmer United when that time comes.

All the best,

Clive Palmer
Ad. Article continues below.
Queenslanders received much the same, with his Lazarus complaint paragraph spliced in:
We are all sick of politicians saying one thing before an election and acting differently afterwards. Unfortunately, following the dismissal of his wife as a Palmer United employee, she directed him to resign from the party and stop an opportunity to achieve great things for our state.
It's noteworthy that while in both versions there appears the line that the letter will "set out the successes Palmer United have achieved", no such success is covered. Has there been no success? Is it essentially a typo? Or is this one of those occasions when a politician says something without meaning to be called on it?
What do you think… is this petty squabbling about something best Palmer should move on from? Or is this a warning shot to new Palmer United candidates in future elections? Has this bickering and 'betrayal' made you less likely to vote for a smaller political party in the next election?