Clive Palmer... couldn't take the heat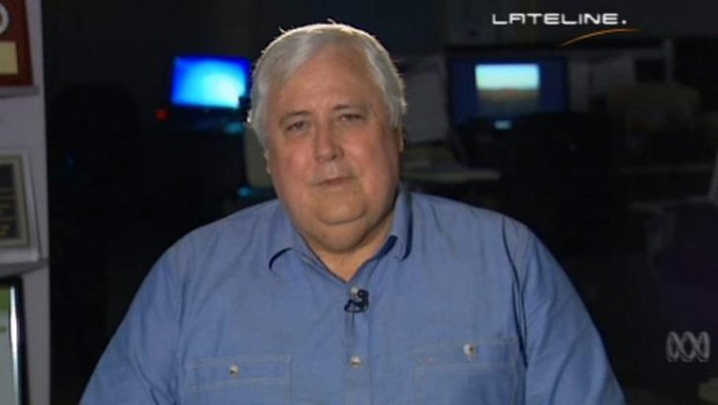 Clive Palmer has controversially stormed out on another TV host, this time on ABC Lateline last night in an interview with Emma Alberici.  And in a week of rash controversy for the Palmer United Party this feeds the fuel of public discussion in a way that raises so many questions.  I have to ask today… why shouldn't a member of our Parliament have to stand up to the same public scrutiny as any other public board member?  And why do we let him get away with walking out on the public scrutiny of his misappropriation allegations.
Mr Palmer, in a very public role, is, as you can see below, being questioned over the alleged misappropriation of $12M in funds in a case that is before the Brisbane Supreme Court again next week.  The interview, prior to this point has taken him through the difficult are of discussing his Senator, Jacqui Lambie who has this week been demoted, seeing him blame her for "not turning up to party meetings"; and then the question of misappropriation, dishonesty and fraud are raised.
He is growing rather famous for his "walking out", when he doesn't like the topic being asked, most particularly each time he is asked about the charges against him.
It is not the first time the Palmer United Party leader has stormed out of a media appearance.  He hung up on ABC's Jon Faine, in the middle of an interview last year saying "get stuffed"; and he walked out on Sarah Ferguson from the 7.30 report in July this year in a storm of anger.
This interview wasn't much different leading me to ask if Clive really is cut out for this public role when topics turn against him.  And let's face it… this topic has been against him since the beginning of his time in government.
Ad. Article continues below.
The interview had gone on a while, during which he had called the  relationship problems between him and Jacqui Lambie that have been publicised all week, a media beat-up.
"I haven't seen Jacqui for over a month and you've got to realise that communicating through the media, and this is all a bit of a media beat up really," he said. "It's always best to sit down and talk to people and work things out."
Lambie meanwhile is being accused by Palmer of plotting her own political party and has said she will make a decision by next week about whether she will remain in the party.
Then, the interview turns to the Citic Pacific case.
You simply have to watch this for yourself… and tell me, do you think Clive Palmer, in the role he has taken on should stay and answer questions of public scrutiny whether he like it or not? 
Ad. Article continues below.
The twitter feeds are alive and running with videos and clips from the evening's blow by blow battle… watch them below and share your thoughts.
Clive Palmer storms out of #Lateline interview. https://t.co/CzvIX33A4R

— Matt Young (@MattYoung) November 20, 2014
'The audience has a right to know' #Lateline https://t.co/dvPNeUOcfA

— Matt Young (@MattYoung) November 20, 2014
Ad. Article continues below.
'Do you want to just go on and talk?' #Lateline https://t.co/9iLXKE9dJV

— Matt Young (@MattYoung) November 20, 2014
Alberici v Palmer: Round 1 #Lateline https://t.co/3wxzRx9Han

— Matt Young (@MattYoung) November 20, 2014
Oops. He's done it again. Clive Palmer storms off after "steamroll' interview with @albericie: http://t.co/8oppbmG1BB pic.twitter.com/6F4YI2EmlV

— Matt Young (@MattYoung) November 20, 2014