Clive Palmer accuses council of ambushing his property and killing animals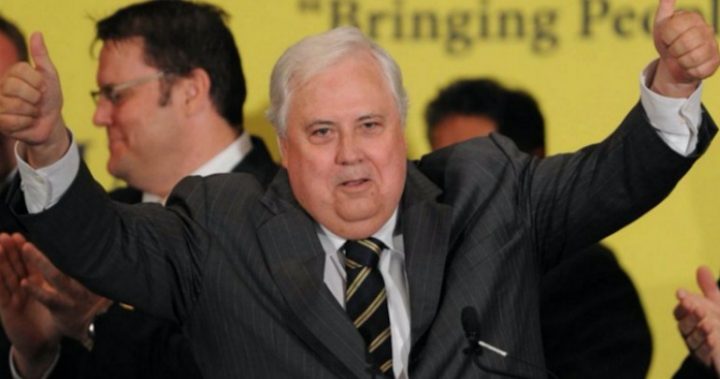 We haven't heard much from Clive Palmer lately, but that all changed this afternoon when he posted a lengthly rant online accusing a Queensland council of illegally entering his property and firing weapons.
In the rather bizarre post, Clive accuses Gold Coast city council officers of coming to his property with guns, shooting and killing his deer and then selling the meat for a profit to local restaurants.
"Gold Coast Council Officers armed with high powered rifles entered my property and fired shots killing my livestock and endangering human life," he began.
"Consultants and my employees observed them. They removed the carcasses of at least ten red deer from inside my property boundary and investigations have revealed they sold the meat from those animals to Gold Coast restaurants at up to $40 per kilogram.
"The potentially murderous actions of those officers needs to be investigated and stopped. Tom Tate, the Mayor of the Gold Coast needs to take immediate executive action.
Ad. Article continues below.
"Small children under 10 years of age reside on my property and could have been killed by this raid."
He went on to say he will return to politics to clean up the Gold Coast if the matter is not resolved.
"Small children and families should be able to play in their backyard without fear the Government will fire guns in or on their property," he said.
The rant quickly caught the attention of the media and the mayor in question, Tom Tate, who personally wrote a reply post disputing everything Palmer said.
Ad. Article continues below.
"The news is that it was NOT our officers who were on Clive's land nor was it a contractor of Council…" he said.
"Council has not used a weapon in the city for quite some time according to our weapons register."
He went on to say there had been numerous complaints about Palmer's deer escaping in the past.
"We have had calls in the past … about Clive's deer escaping and causing danger on the local roads and a number of related 'notices' have been issued for failing to maintain the property and allowing deer to escape.
"So sorry to ruin a good story with the truth but that's the result of my teams investigation this morning."
Ad. Article continues below.
Just when you thought you'd seen the last of Clive, hey!
There's no word yet on whether he will respond or make good on his threat to return to politics.
What do you make of this strange turn of events? Should Clive Palmer return to politics?