Climate change rallies: what are they fighting for?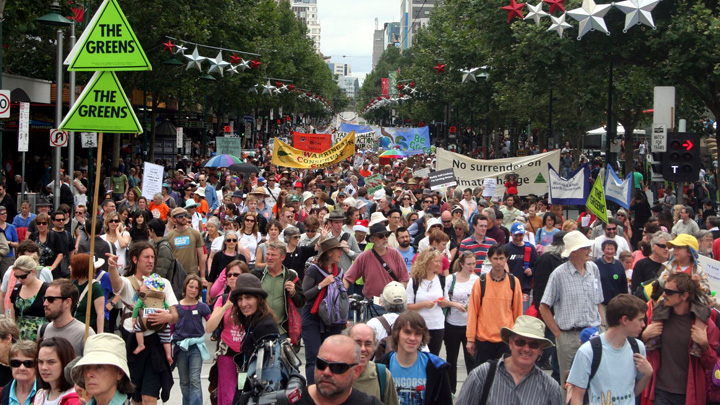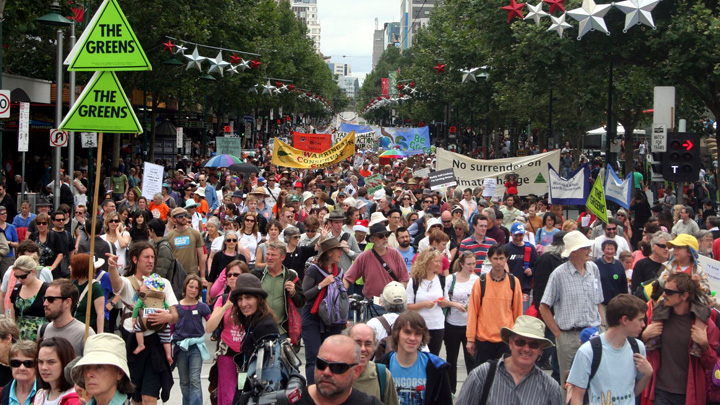 Whether or not you believe in climate change, there are thousands upon thousands of people around the world who are rallying for more government action. On Sunday in Melbourne there was a rally that saw over 30,000 people take to the street to demand Tony Abbott stand up ahead of the UN summit on climate change in New York today. Abbott won't be attending, instead using Foreign Affairs Minister Julie Bishop in his place while he prepares for a UN Security Council meeting in coming days.
So what are these protestors fighting for? And should climate change be on our radar too?
The protestors want a 100 per cent renewable energy target and to put an end of coal mining, not to mention they vehemently oppose the abolishment of the carbon tax, which now means mining companies can go back to polluting our natural environment and using our natural resources for capital gain.
Climate change is a global issue and 2500 rallies are estimated to have been held before today's summit, with attendees in the hundreds of thousands. GetUp! Campaigns chief of staff Erin McCallum told The Age of Sunday's march: "This is a clear testament that Australians want climate action regardless of what Tony Abbott and his government are doing right now".
Ad. Article continues below.
There is a belief that we must do something before it is too late, which could be why this rally has been one of the most supported in history, only eclipsed by the Occupy movements of 2011. So why should Australia be worried about climate change? Are we really suffering that much from the effects of global warming? According to the Australian Government's website for climate change, they admit that we "face significant environmental and economic impacts from climate change across a number of sectors, including water security, agriculture, coastal communities, and infrastructure".
Australia is the largest polluter in the OECD per inhabitant so on a global level, we need to be at these UN summits and world gatherings on climate change so we can understand and implement clean energy. Rally supporters such as Greens leader Christine Milne believe there are no ifs and buts…we need to start acting now.
How does climate change affect the average Australian?
– Food prices: as temperatures rises, so does the consumption of water to water crops. And more die so the demand is higher for quality produce, in turn making retailers charge you more
– Weather: more large storms, cyclones and floods that cause damage and hardship
Ad. Article continues below.
– Air: air pollution is increasing and could result in more health issues for asthma sufferers and the elderly
It feels like despite a slew of protestors in our country, there isn't a real conversation about climate change in every household and how we can make little changes at home – where are the ads on our TVs? I know that in Brisbane we had water restrictions for a number of years however once the dams filled up post-floods in 2011, they were dropped. I can hear my neighbours having 20 minute showers and it makes you wonder how seriously our government are taking it if they repeal the carbon and mining tax and appear to endorse activities that harm our environment. Yes, we may have reductions on our energy and gas bills for now, but it seems inevitable that something else will raise it again, when really we should be focused on reducing our consumption to lower our bills.
Just after the carbon tax was repealed in July, Peter Rayner, from the School of Earth Sciences at the University of Melbourne, told The Conversation, "As a carbon cycle scientist my job is to monitor, understand and predict the levels of carbon dioxide in the atmosphere. As an Australian, I'm proud of how much we have contributed to that understanding, but today I'm embarrassed by how poor we are at putting that understanding into practice.
We know we have to put Australia on a long road to a low-carbon future. Today we stepped off the road for a nap but that won't make the road any shorter; we will just have to hurry more to catch up later".
Hopefully this summit will give our government the information it needs to start the climate change ball rolling again…
What do you think about climate change? Are we taking enough action in Australia? What do you do to reduce your environmental impact? Tell us below.