Chung shows the ugly blister that caused him to pull out of the semis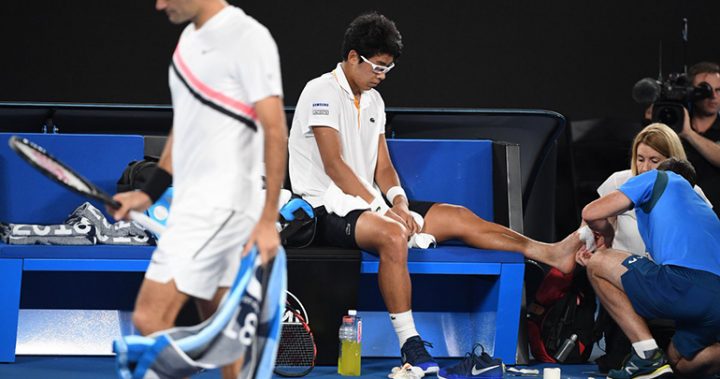 Late Friday, Roger Federer was given a far easier passage to the Australian Open Final when Hyeong Chung had to pull out, declaring the cause to be an ugly and painful blister on his foot.  His agent later shared the insights that this was "no ordinary blister", and now, the popular South Korean tennis star has showed it to the world. 
His agent made a statement after he pulled out saying: 
 "Over the last few days, it was blister under blister under blister. He had it shaved off, now it's red raw. They tried injections to see if it numbed the pain, it didn't work. It's much worse than a regular blister. I think a lot of players get calluses. As they go along, they shave them down. Because he [Chung] has played so many matches in the row, I think that's why it was a build-up. I think that's how they started."
Poor Chung's foot has been pounded with days of back to back matches, and the injury is now pretty gruesome.  So bad that Chung felt it appropriate to show the world what stopped him taking a shot at Australia's premier tennis title. 
The picture, posted on Instagram is featured below, but we warn you, the blister on blister on blister is not pretty.  
Ad. Article continues below.
He opens the post with warm wishes for Federer in the finals who will play tonight centre court at the Rod Laver Arena.  
"Tonight, I tried very hard to bring my utmost energy to the tennis court as usual. However, I had to make a tough decision given that I cannot compete 100% against Roger, in front of many tennis fans. Please understand. I wish all the best luck for @rogerfederer in the finals."
Ad. Article continues below.
Hyeon Chung has retired from the match.

Roger Federer is into the #AusOpen 2018 final. pic.twitter.com/m1crvYFCdA

— #AusOpen (@AustralianOpen) January 26, 2018
 Plenty of warm wishes were exchanged between the pair after Chung pulled out of the final in the second set.
"It's very impressive…It's very intense, his tennis. I wish him the best. I was very impressed."@rogerfederer on Hyeon Chung ????#AusOpen pic.twitter.com/fj6eCjyWiz

— #AusOpen (@AustralianOpen) January 26, 2018
Ad. Article continues below.
Unfortunate scenes on @RodLaverArena with Hyeon #Chung forced to retire early in his Men's Singles SF against @RogerFederer ????

Federer is through to his 7th final here at Melbourne Park. #AusOpen pic.twitter.com/bjsGymyXB6

— #AusOpen (@AustralianOpen) January 26, 2018