Christopher Pyne has apologised for 'damaging' comments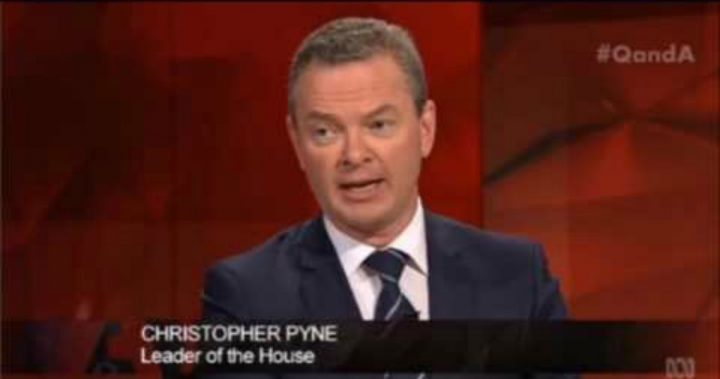 Defence industry minister Christopher Pyne has apologised for his "unhelpful and damaging" comments on same-sex marriage that were leaked earlier this week, and which caused division as conservatives called for him to be sacked from his role of Leader of the House of Representatives.
Read more: Leaked tape reveals government's plan for same-sex marriage
The Daily Telegraph reported that Sky News host Andres Bolt obtained the secret recording in which Pyne also boasted that the Liberal Party is now run by its left-leaning faction.
"Friends, we are in the winner's circle but we have to deliver a couple of things and one of those we've got to deliver before too long is marriage equality in this country," he said.
"We're going to get it. I think it might even be sooner than everyone thinks. And your friends in Canberra are working on that outcome."
Ad. Article continues below.
Read more: Here's why Aussies hate politicians, by a politician
Fairfax reported that in a speech to his local constituents on Wednesday, Pyne apologised for the distraction his comments caused. 
"I'm very sorry that my comments at an event last Friday have caused such a distraction for the government," he said.
"I apologise to anyone they have offended. My remarks were ill chosen and unwise, and I can see how unhelpful and damaging they have been."
Tony Abbott also criticised Pyne's "ill-advised and indiscreet speech."
Ad. Article continues below.
"I can understand why some of my colleagues are now saying his position as leader of the house is now difficult to maintain," Abbott said.
"But this – as always – is a matter for the prime minister."
Meanwhile, Malcolm Turnbull called for politicians to "focus on the people who elected [us]". 
"Australians are bored, fed up with journalists and politicians talking among themselves."
Do you think that Pyne's comments were damaging and requiring of an apology?