"Chaotic" scenes as French authorities start demolishing refugee camp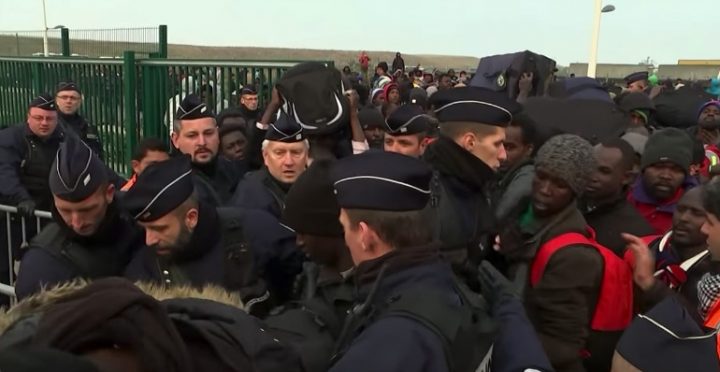 No doubt you're heard about the French refugee camp known as the 'Jungle'.
It was the scene of violence in February when French authorities dismantled half of the camp.
And now they've moved to shut the camp down.
Authorities began moving the camp's more than 10,000 residents yesterday as they aim to demolish the camp and resettle refugees in "welcome centers".
But advocates have told the Huffington Post they're concerned about what happens to those left behind.
Ad. Article continues below.
Founder of Care4Calais Clare Moseley is worried those not going on to the 450 welcome centers will just end up in more illegal refugee camps in northern France.
"Destroying the thousands of pounds worth of basic infrastructure that is present in Calais is tragic and purposeless," she said.
"Destroying the basic infrastructure will achieve nothing more than making living conditions so much more inhumane.
"We have been sending aid to these camps since the February evictions, and also to the refugees living on the streets in Paris.
"We expect to do more of this following the coming evictions."
Ad. Article continues below.
One of the biggest concerns surrounds the 1000 unaccompanied children who have been living in the camp.
While 400 will go to live with families in the UK, the future is uncertain for the rest.
Save the Children spokeswoman Caroline Anning described the situation as "extremely chaotic".
"Authorities were in no way prepared for the camp to be demolished," she said.
"They have closed registration stations for the night so there's no sense where children can stay tonight."
Ad. Article continues below.
So, what does the United Nations have to say about all this?
Well, it turns out the UN supports the closure of the camp.
Spokeswoman for the UN High Commissioner for Refugees Céline Schmitt told the Huffington Post that people living in "deplorable" conditions was "unacceptable".
"In situations like the Jungle, it's difficult for people to even think about their futures. They don't have any recourse because their living conditions are abysmal," she added.
"We can feel anxiety and stress among people still there linked to a need for information." 
Ad. Article continues below.
What do you think? Is shutting down the refugee camp the solution to the problem?