Celine Dion rocks Paris Fashion Week with interpretive dance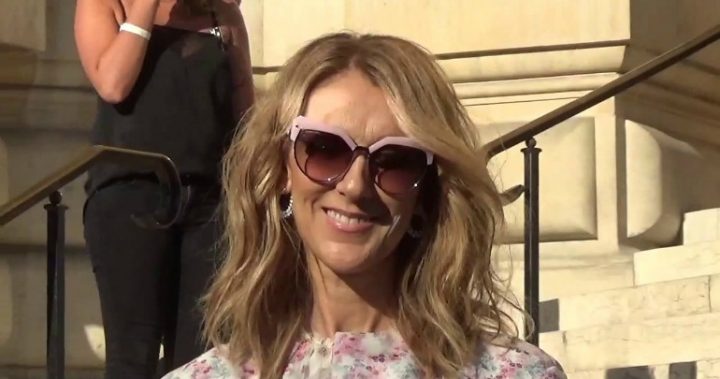 Celine Dion may be best known for her beautiful belting, but at Paris Fashion Week she was ready to celebrate.
The Canadian songstress has so far been snapped in two gorgeous outfits, adopting cheeky poses for each.
Ready for Monday's 2.30pm Christian Dior show, Dion was all classic lines and cinched waist in a long mustard-yellow leather dress with black accessories and a simple Dior handbag.
She posed playfully for paparazzi outside her hotel, draping herself over a car with a grin.
Ad. Article continues below.
Read more: Celine Dion forgoes pants in another daring ensemble
The Beauty and the Beast singer was a little more restrained once she arrived at the event, but even then her poses were full of flair as she whipped her hair and placed a hand on hip, staring down the camera through enormous gold sunglasses.
Dion has been both praised and panned for her fashion choices of late, but she was careful to dress for the occasion; almost all of the inclusions in the Christian Dior haute couture show were full-length dresses, with clean-cut lines abound.   
Ad. Article continues below.
Later that day, at the Giambattista Valli show, Dion donned a short floral dress with ruffled sleeves and silver detailing. Wine-coloured over-the-knee boots finished off the outfit perfectly.
Once again, the outfit complemented the designer's collection, which was focused on florals with a mixture of high and low hem lengths.  
The My Heart Will Go On singer ditched her oversized pink-rimmed shades once indoors, revealing a smoky-eye look that had been largely hidden earlier in the day.
Ad. Article continues below.
Dion couldn't resist getting her groove on in her cute outfit, posing by herself and with others, drawing curious glances from onlookers for performing what looks like interpretive dance.
Italian designer Valli was thrilled to catch up with the stunning celeb after the show.
Which of Celine's outfits do you prefer: the yellow dress for the Christian Dior show, or the short floral number for Giambattista Valli?