'You're the problem': Seal slams Oprah in scathing social media post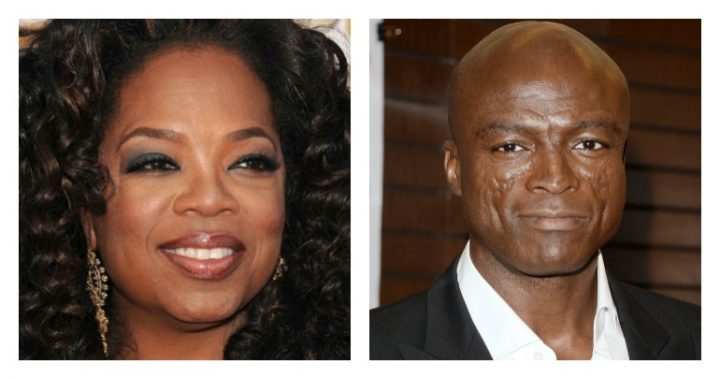 British singer Seal has taken a swipe at Oprah Winfrey, accusing her of being turning a blind eye to serial abuser Harvey Weinstein's behaviour.
The Voice coach shared a photo of the beloved talk show host on his Instagram account, with the words "When you have been part of the problem for decades but suddenly they all think you are the solution" overlaid on top. He captioned the image: "Oh I forgot, that's right…..you'd heard the rumours but you had no idea he was actually serially assaulting young stary-eyed actresses who in turn had no idea what they were getting into. My bad. He added the hashtag, "#SanctimoniousHollywood".
It comes after Oprah delivered a rousing speech at the Golden Globe awards on Sunday, where she was honoured with the Cecil B. DeMille Award for lifetime achievements in the entertainment industry.
Ad. Article continues below.
"For too long, women have not been heard or believed if they dared to speak their truth to the power of those men, but their time is up. Their time is up. Their time is up," she told the crowd.
"I want all the girls watching here and now to know that a new day is on the horizon! And when that new day finally dawns, it will be because of a lot of magnificent women, many of whom are right here in this room tonight, and some pretty phenomenal men, fighting hard to make sure that they become the leaders who take us to the time when nobody ever has to say, 'Me too,' again."
Seal, it seems, was not impressed and many of his fans jumped to agree with him. "Thank you for bravely speaking the truth!" one fan commented on the photo. "Awesome Seal speak the truth mate, Oprah is a fake," said another.
Not everyone was so happy though. "Not cool. Let's get somethin' straight seal. Weinstein is to blame here. Not Oprah. It's not her story to tell. Its the victim who needs to speak up for themselves," commented one person.
Ad. Article continues below.
"Why do they [men] feel the need to attack and blame women for men's behavior? Are they trying to shift the microscope away from them?" asked another.
Oprah is yet to respond. Seal appeared on Oprah's talk show in 2006 with his then wife Heidi Klum. The couple gave a revealing interview that set tongues at the time, with Klum telling Oprah what first drew her to the singer.
"I met him in a hotel lobby in New York City and he came in just from the gym and I was sitting there and I was, like, wow," Klum said of Seal, who was apparently wearing very tight bicycle shorts when she first saw him.
"And I pretty much saw everything," says Klum. "The whole package."
What do you think of Seal's post? Is he out of line?