'You better be so f****** fascinating': Tom Hanks rants at fans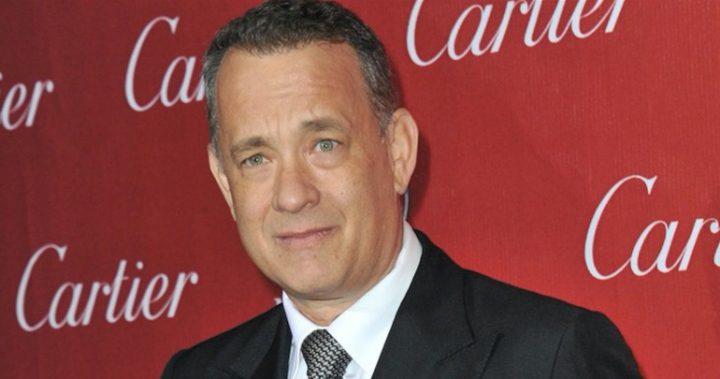 A speech with Tom Hanks is like a box of chocolates. You never know what you're going to get. Julia Roberts may have been the sole honouree at the eighth annual gala for amfAR, The Foundation for AIDS Research, but there was no shortage of celebrities in the crowd.
When it came time for the live auction, one of the most anticipated items up for grabs was a lunch with Roberts, director Ryan Murphy, and Matt Bomer (White Collar). According to Hollywood Reporter, things got out of hand when the bids started stalling in the $40,000 range. 
That's when Tom Hanks became part of the deal. Upon offering to attend the lunch, bidding began again in earnest. Host James Corden and actor Sean Penn also jumped in on the action, offering to not only attend but cook the entire lunch. 
The winning bid totalled $110,000.
Read more: Tom Hanks and wife Rita Wilson look smoking hot on red carpet
Ad. Article continues below.
As Hanks took to the stage to present Roberts with the Award of Courage later, he let loose on Roberts and the people who had won their company at lunch. 
"Never ever sit at Julia Roberts' table while an auction is going on. Never—don't do it. She tells you to buck up the price, she tells you to bid something. Next thing you know, you're having lunch with strangers," he joked. 
"By the way … who actually pledged all that money? How many are back there?" 
Read more: Tom Hanks sends generous gift to White House press corps
When the winning group cheered, Hanks settled in for a tirade. 
Ad. Article continues below.
"I'm going to tell you right now, you better be so fucking fascinating at this lunch," he began. "And by the way, I see you're all girls back there. Great. It's not going to be all white wine and endive lettuce with some lemon drips on it.
"Sean Penn asked if barbecue was going to be okay so it's going to be coleslaw and baked beans; you're going to fart all the way home. Don't dress too nice. You know what? We're just going to put ugly bibs on you because sauce is going to get all over you.
"But I don't care how sloppy you eat, you just better be loaded with funny anecdotes because I'm not talking at this lunch. I'm going to listen you. Because if you think … we're not going to entertain you. I'm telling you that right now. You are going to entertain us. Simple as that.
"And if we find out that you've got bad attitudes, we're going to put you in my Ford Transit and we're going to drive through In-N-Out and that's going to be it." 
There's something very special about hearing @tomhanks say f-ck. And bitches. All in good fun though, he said. #amfARLosAngeles pic.twitter.com/6KT5NJn23r

— Chris Gardner (@chrissgardner) October 14, 2017
Ad. Article continues below.
Hanks had the audience in stitches throughout his speech, but he eventually delivered a smooth segue to the presentation of Roberts' award: "All right. I'm actually not here to talk about you bitches in the back." 
Read more: Tom Hanks opens up about working with Clint Eastwood
Nicest man in Hollywood/mega movie star @tomhanks proposes "movies" be renamed to "things Julia Roberts is in" #amfARLosAngeles pic.twitter.com/iLH5IG9vds

— Chris Gardner (@chrissgardner) October 14, 2017
While the remarks were all in good fun, it's hard to believe that anyone but Tom Hanks could make being called names sound so nice. 
What do you think of his speech?