Yassmin Abdel-Magied goes head to head with Tom Gleeson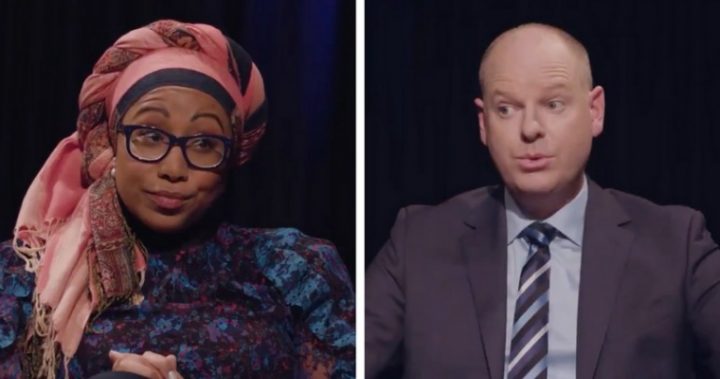 She's one of the most controversial faces in Australia right now and Yassmin Abdel-Magied seems to know the impact her comments have had on the nation.
The 26-year-old, who once dubbed herself "Australia's most publicly hated Muslim" recently appeared on Tom Gleeson's Hard Chat segment on ABC program The Yearly.
During the interview, which is intended to be satirical, Gleeson quized the former ABC commentator on an array of topics she's infamously spoken out on.
"Do you think that every ANZAC Day we should have a minute's silence for your career?" Gleeson asked Abdel-Magied.
Earlier this year, Abdel-Magied came under fire when she shared a 'Lest We Forget' post on Facebook on ANZAC Day, urging people to remember people suffering on Manus Island, in Syria and in Palestine.
Ad. Article continues below.
Read more: Jacqui Lambie and Waleed Aly clash over sharia law
My controversial #HardChat with @yassmin_a. #TheWeekly #TheYearly pic.twitter.com/qtMJODS85N

— Tom Gleeson (@nonstoptom) December 20, 2017
"You know, I missed all the death threats," she responded to Gleeson. "It gives you a sense of importance."
Read more: Yassmin Abdel-Magied says Australia is her 'abusive boyfriend'
Ad. Article continues below.
She suggested that she would visit a war memorial in Canberra next year to rile people up, to which Gleeson replied: "Why not? You look like a tourist."
He made fun of her religious wear, saying: "Do you ever feel bad about wearing a hat indoors?"
The host even went as far as to suggest that Abdel-Magied hangs out with convicted sex offender Rolf Harris when she's in London.
"When you're in London, do you ever hang out with Rolf Harris so you're not the most-hated person in the room?" he said.
Not worried about the comments, Abdel-Magied laughed them off and even joked that she regularly goes to the pub with Harris.
Ad. Article continues below.
Before ending the interview, Gleeson offered Abdel-Magied a halal ANZAC biscuit, but she had the final say.
"Pauline Hanson would be pretty upset about that," she quipped.
Have you ever watched the Hard Chat segment before?