'He's a bad man': Quincy Jones names new Kennedy killer suspect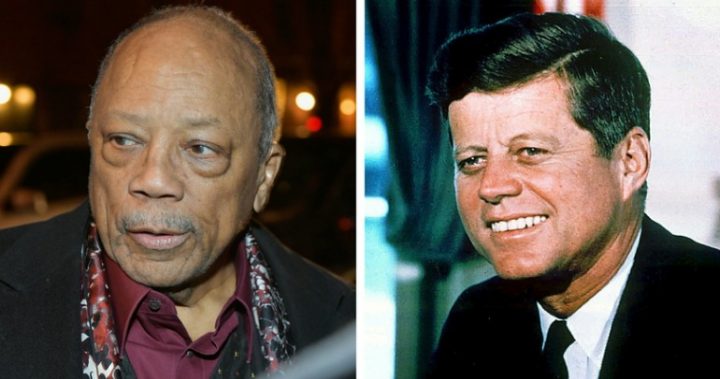 He's been entertaining the masses for decades, but Quincy Jones has raised more than a few eyebrows with his latest interview. The 28-time Grammy winner said he knows who killed former US president John F. Kennedy, and claims it wasn't Lee Harvey Oswald. 
In an exclusive interview with Vulture, the 84-year-old was asked to share something that he wished he didn't know. "Who shot Kennedy," he replied. 
The interviewer then proceeded to ask who did it, with Jones claiming it was Chicago mobster Sam Giancana. "The connection was there between Sinatra and the Mafia and Kennedy," he explained. "Joe Kennedy – he was a bad man – he came to Frank to have him talk to Giancana about getting votes." He said he knew a lot more about the deadly incident, but insisted he shouldn't talk about it publicly.
Kennedy was assassinated while riding in a convertible car with his wife Jackie in Dallas, Texas, 1963. He was shot twice and was pronounced dead a short time after the incident.
Oswald was formally charged with the murder, although conspiracy theorists still claim someone else was responsible the assignation, with Jones' comments further fuelling the questions around one of America's most terrible days in history.
Ad. Article continues below.
It wasn't the only bombshell Jones dropped during his interview. He also described The Beatles as "the worst musicians in the world" and branded Paul McCartney a terrible bass player. He also claimed that Michael Jackson stole some of his songs, even though Jones was the producer on some of Jackson's biggest albums.
He discussed the current political situation in America and explained that although he wasn't a Donald Trump fan, he didn't believe Oprah Winfrey would make a good president. Despite the former TV presenter already saying she wouldn't run, he suggested she wouldn't know how to lead people and that she doesn't "have the chops for it".
The musician also claimed he dated Ivanka Trump before she met and married her husband Jared Kushner. He described her as a "fine mother******" with stunning legs, but couldn't continue seeing her because of who she had as a father.
He brought the interview back to music, blasting basically all modern music and suggesting there is nothing inspiring or innovative happening in the industry these days.
What do you think? Are you a fan of Quincy Jones? Are you surprised by anything he revealed in his interview?
Ad. Article continues below.
---
With Facebook removing news sites from your feeds we ask that you sign up for Starts at 60's emailers here. And to keep us on your wall, join some of our new Facebook groups and clubs:

News Junkies Club – Australia
News Junkies Club – USA 

See news on the change and links to all our other clubs and groups here.