Turia Pitt and fiance welcome baby boy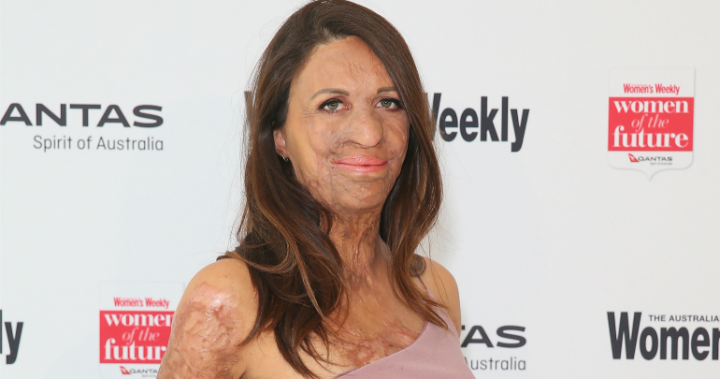 Motivational speaker Turia Pitt and fiancé Michael Hoskin have welcomed their baby boy into the world.
Announcing the news in Pitt's newsletter and then on Instagram today, the happy couple declared they were totally in love with their first child.
"Michael and I want to introduce you to someone… Meet Hakavai Hoskin," she wrote.
"We'll be in this little newborn bubble for a few weeks but we wanted to pop our heads out for a moment to share the news directly with you. We are totally in love, and just so stoked!"
Ad. Article continues below.
Pitt made headlines in 2011, when she sustained burns to 65 per cent of her body from a catastrophic bush fire, during an ultra-marathon in Western Australia.
The 30-year old's remarkable story of survival, courage and determination in the six years following "the fire", as Pitt calls it, has captured the hearts around the world.
So has the obvious love between Pitt and her "beautiful partner Michael", who has been a devoted partner throughout both her long and painful rehabilitation, and her pregnancy.
Ad. Article continues below.
Late last month, Pitt addressed on her blog how she was handling the question of whether she was nervous about giving birth.
She acknowledged that with any big change approaching, there's a certain element of uncertainty.
Pitt also wrote "when you know that you're going to experience pain, that can be pretty scary. But I'm not looking at it that way.
Ad. Article continues below.
"I write a list of all the bad things that could happen – it's going to hurt, I don't know if I can do it, what if I can't handle the pain.
"Then I write a list of all the good things – how grateful I am to still be here, to have a beautiful partner like Michael, and to get to experience this. How cool it will be to meet my son. That one day I'll be able to watch him surfing, diving and hanging with Michael."
She noted that given the choice of looking at any situation in a negative or empowering way, she choses the empowering way.
There's no doubt that her inspiring, positive attitude will bode Pitt well in this exciting new chapter of her life.
Have you followed Turia's journey over the past few years? Do you have a message of congratulations for her and Michael?