Tony Abbott's daughter announces engagement after just two weeks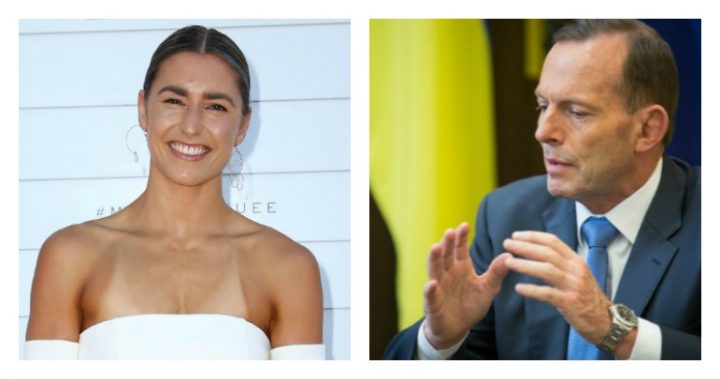 Former PM Tony Abbott may have his mind on the results of the same-sex marriage postal vote at the moment, but there's a wedding a little closer to home that he might want to keep his eye on.
His 26-year-old daughter, Frances, announced on Instagram on Sunday afternoon that she's engaged … to someone she's only been dating for a fortnight. 
Frances, who has been making headlines lately as a fitness junkie and advocate for marriage equality, posted a shot of several strips from a photo booth that showed her and 34-year-old Olympic rower Sam Loch in various poses, cuddling and kissing for the camera. 
"HEY FEYONCÉ," she captioned the image, with a nod to singer Beyoncé. "Two weeks was all it took to know that forever with you was a mighty fine idea." 
The Beyoncé pun became clear as she used the hashtags "crazy in love" and "he liked it so he put a ring on it", both references to some of the artist's most popular songs. 
Ad. Article continues below.
Read more: Frances Abbott has taken a leap in support of marriage equality
Frances's followers (which number nearly 9,000), were quick to offer their congratulations.'
"You just know it when you find the one," one follower wrote. "Doesn't matter how soon or how late in a relationship it happens!" 
Ad. Article continues below.
Journalist Rachelle Unreich couldn't help but express her surprise. During a recent interview with Unreich for Harper's Bazaar Australia, Frances described herself as "so single". 
"Whoa! Things change quickly! (When I interviewed you not very long ago for Harper's, you said you were sooooo single!) Congrats! Wishing you a lifetime of happiness," Unreich wrote on the Instagram post. 
Read more: Un-Australian or not? Tony Abbott's sister attacked at violent protest
Loch posted a photo of the couple to his own Instagram with the simple caption, "With the soon to be Mrs Loch" and an emoji of an engagement ring. 
Ad. Article continues below.
It's not unheard of for whirlwind romances to turn into long and happy partnerships, but an engagement so soon for a couple with an age gap of eight years is bound to raise a few eyebrows. Tony Abbott has yet to comment publicly on the engagement of his middle daughter. 
How long did it take you to know you had found the one? Do you think people should get to know each other better before getting engaged?