Tom Hanks proposes to lifelong fan at Texas Book Festival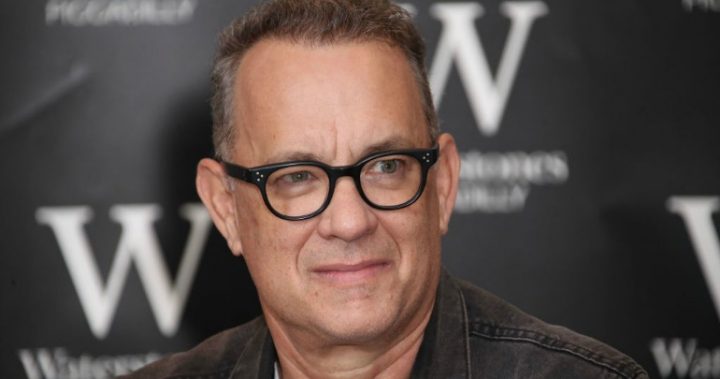 Superstar Tom Hanks has been married to actress Rita Wilson for 29 years now, but that didn't stop him from popping the question to someone else at a promotional event for his new book, Uncommon Type. 
According to reports, Hanks was approached by 39-year-old Ryan McFarling during a stop in Austin to speak about his new collection of short stories. McFarling wanted some help proposing to his girlfriend, 43-year-old Nikki Young, and Hanks readily agreed. 
During the Q&A portion of his appearance at the Texas Book Festival, Hanks told everyone he was tired of taking questions and wanted to ask one himself. 
"Ryan McFarling," Hanks said, pulling a piece of paper from his pocket. "Here's Ryan's question, and it is for Nikki Young: 'Nikki, will you marry me?'"
Tom Hanks helps plan a proposal the way only Tom Hanks can. pic.twitter.com/AHf6qThGIy

— HuffPost (@HuffPost) November 7, 2017
Ad. Article continues below.
McFarling dropped to one knee beside Young, who was shocked at the sudden turn of events. After Young accepted the proposal, the newly-engaged couple joined Hanks onstage for a few commemorative photos. 
According to My San Antonio, Young has had a "mad crush" on Hanks since he appeared in his breakout role in Bosom Buddies. There's even "an area in [Young's] home full of interesting Tom Hanks memorabilia". The event at the Texas Book Festival was her first chance to meet the actor. 
"Ryan seemed so nervous," Young said. "I thought it was because I was nervous about finally being in the presence of Tom Hanks. We even got front-row seats. I, of course, was enamored by every word and breath that came from his lips." 
And a surprise wedding proposal with the help of @tomhanks during his Q&A! Congratulations to the happy couple! ❤️ #txbookfest pic.twitter.com/GceDZsAN30

— Texas Book Festival (@texasbookfest) November 4, 2017
Ad. Article continues below.
According to McFarling, when the couple joined Hanks on stage, the actor put his arm around Nikki's shoulder. 
"He looked at her, at me and the crowd, and said, 'We can all see that this is a very lucky man. We can also see that she could do a little better.' … He leaned over to me and said, 'Damn, you're one ballsy dude.'" 
The couple have confirmed that they'll be inviting Hanks to their wedding. 
A wedding proposal happens at the @tomhanks reading @texasbookfest just now. #love pic.twitter.com/aoYO49E0h9

— Min Jin Lee (@minjinlee11) November 4, 2017
Do you prefer public proposals or more private moments?