Tippi Hedren reveals 'panic' over Melanie finding love at 14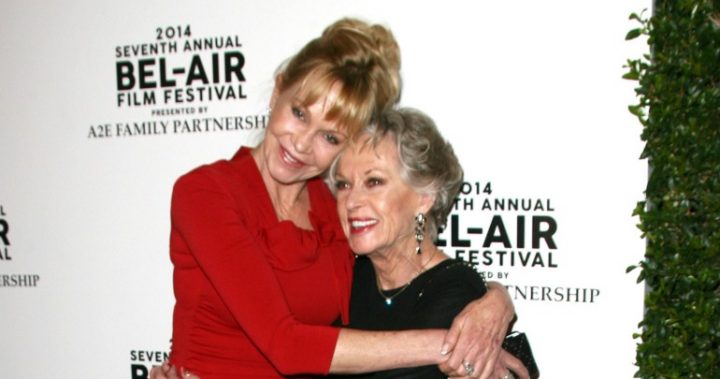 Melanie Griffith began dating her ex Don Johnson, then 23-years-old, when she was aged just 14.
And now her famous mother, 87-year-old Tippi Hedren, has admitted she felt "sheer panic" over the relationship at the time.
Hedren looked incredible as she joined her daughter in a new Hollywood Legacies shoot – alongside the actress' ex Johnson and their daughter Dakota Johnson.
The whole family reunited to discuss their rollercoaster past, and looked completely at ease with each other in the shoot for The Hollywood Reporter.
The spread, shot by photographer Joe Pugliese, shows Melanie, 60, suited up in black and leaning back into the arms of her ex husband.
Ad. Article continues below.
Meanwhile Hedren looked amazing in a tight-fitting black dress, as she sat beside her granddaughter and Fifty Shades of Grey actress Dakota, who looked sensational in a tight black jumpsuit.
Ad. Article continues below.
Hedren recalled the moment she discovered her co-star in The Harrad Experiment, Johnson, had started romancing her then 14-year-old child Griffith.
"They were two beautiful, wonderful people, and here, my daughter was showing signs that I had never seen before in her, with an older man, and there was just sheer panic," she told the magazine.
Ad. Article continues below.
"How do you handle that? There was a very strong attachment between the two of them."
By the time Griffith turned 15, she began sharing a home with her partner, now aged 68.
They went on to marry twice, in 1976 and 1989, before finally divorcing in 1996. However, they have remained in touch for the sake of their daughter Dakota, who has taken after her parents and forged her own successful career in acting.
Meanwhile, Griffith heaped praise on her mother during the chat, after Hedren famously refused to complete her seven-year contract with Birds director Alfred Hitchcock, over claims he sexually harassed her.
Ad. Article continues below.
"[Hedren] became an example of what to never let happen in my life," Griffith added. "Hopefully, I've passed that on to Dakota – to be strong in your work and in yourself."
Also taking part in the magazine's issue were the late John Huston's children – Anjelica, Danny, and grandson Jack, while Val Kilmer opened up on his two-year battle with throat cancer while posing with his kids.
Ad. Article continues below.
Read more: Val Kilmer opens up on two-year battle with throat cancer
Quincy Jones posed with his seven children, while The Carol Burnett Show's Buz Kohan joined his children – Orange Is the New Black's Jenji Kohan and Will & Grace co-creator David Kohan.
Finally, former 20th Century Fox President Alan Ladd Jr. posed with his huge family, including documentarian Amanda and An Unfinished Life producer Kelliann.
How would you react if your son or daughter revealed a serious relationship at such a young age? Do you remember watching Tippi's movies?