Time magazine's 'Person of the Year' divides the internet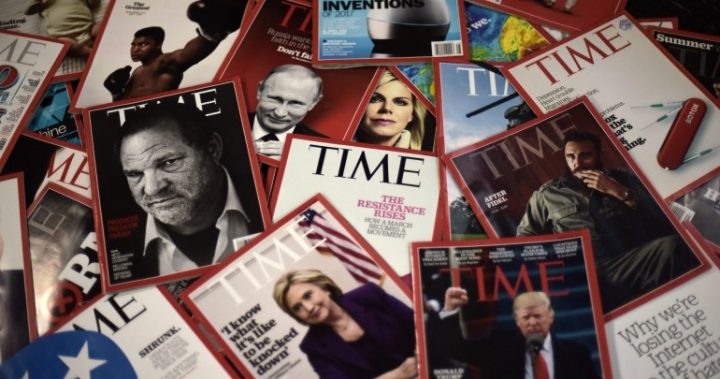 Time Magazine is making headlines today after announcing their 2017 Person of the Year.
Just last year, outspoken president of the United States Donald Trump took the title, while other figures such as Queen Elizabeth II, Richard Nixon, Pope Francis and Mark Zuckerberg have taken the award in previous years.
This year, however, the popular magazine decided to dedicate their issue to the silence breakers behind the #MeToo campaign, rather than an individual person.
Ad. Article continues below.
A few months ago, Hollywood was turned on its head when prominent women in the film and TV industry started coming forward with their experiences of sexual harassment by other actors, directors and producers.
Read more: Trending social media campaign shows widespread sexual harassment
It all but ended the career of producer Harvey Weinstein and destroyed the reputation of other popular figures including Kevin Spacey, Dustin Hoffman and even home-grown talents such as Don Burke.
Back in October, actress Alyssa Milano, who starred in popular shows Who's the Boss and Charmed, encouraged women and men all over the globe who had ever experienced sexual harassment to tweet 'me too' in a stand against harassers.
Ad. Article continues below.
The movement went viral with millions of people sharing their stories and lifting the lid on something that was often ignored or brushed under the carpet.
The new cover was revealed overnight and includes some of the most vocal women who have spoken out about abuse.
They include singer Taylor Swift, actress Ashley Judd, Uber engineer Susan Fowler, lobbyist Adama Iwu and a strawberry picker from Mexico named Isabel Pascual, who wished to change her name for protection.
Read more: Kirstie Alley sparks outrage with Hollywood harassment comments
Ad. Article continues below.
An additional woman was photographed for the cover, but only her arm is visible. The ABC reports that she is an anonymous hospital worker from Texas who suffered harassment but fears that her family could be negatively impacted if she comes forward.
After initially revealing this year's theme on the Today Show in America, Time uploaded an interactive cover to their Instagram page, much to the delight of fans.
One person wrote: "Well done @Time. Fantastic, responsible reporting!"
Another comment read: "This is totally surprising and impressive. Bravo."
A third simply said: "Right choice at the right time. Thank you."
Ad. Article continues below.
Others didn't agree with Time's choice, with one angry comment reading" "Now they come out after years? That's not brave! If they came out when it happened they could have saved so many others. That would have been brave!"
Another comment read: "Am I supposed to find this anything but stupid?"
A third added: "Would have been a lot more powerful & brave if you put Monica Lewinsky on the cover. This woman's life was destroyed by the Clintons and the Democratic Party, but you just want to quietly sweep that under the rug! Not all victims are created equally are they Time?!"
It's not the first time the magazine has made a choice that has divided the masses and named more than one person.
In 2014, the issue was dedicated to Ebola fighters in the wake of the deadly virus that spread throughout the world and Western Africa.
Ad. Article continues below.
Back in 2006, the magazine went digital and named individual content creators on the internet as their Person of the Year.
Other examples include 2002's issue that celebrated whistle-blowers, the 1993 edition which was dedicated to peacemakers and the 1969 issue that focused on the Middle Americans.
What do you think of Time's choice? Who would you name Person of the Year?