Sordid life of singer Eddie Fisher exposed in book by his own daughter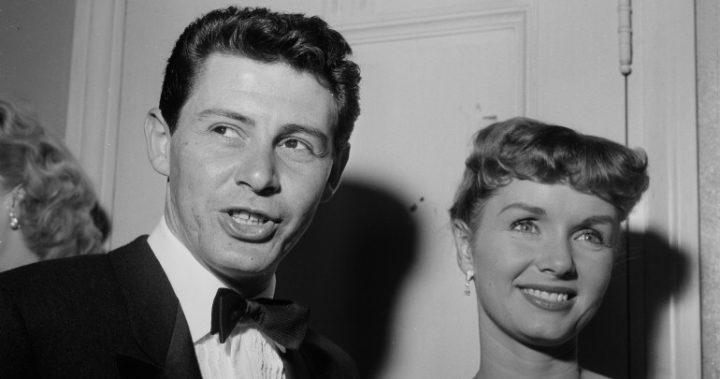 Many people will remember when crooner Eddie Fisher divorced his wife Debbie Reynolds, only to marry screen siren Elizabeth Taylor three-and-a-half hours later. 
But a new book by Eddie's daughter and Carrie Fishers half-sister Joely Fisher, claims that that eyebrow-raising behaviour was just the tip of the iceberg.
Fisher was an American singer and actor who rose to fame during the 1950s, selling millions of records and hosting his own TV show.
His reputation was damaged, though, after he left actress Reynolds for her best friend Taylor. He was later dumped by Taylor, and went on to marry 'sex-kitten' Connie Stevens, with whom he fathered Joely and her sister Tricia Leigh Fisher.
In her new memoir, Growing Up Fisher: Musings, Memories and Misadventures, Joely has spoken out for the first time about her experiences as Fisher's daughter. He alleges her star father was addicted to drugs and alcohol and was inclined to make creepy, sexualised remarks to his own children.
Ad. Article continues below.
She tells of an incident where her father asked her and her younger sister to "show me your t*ts" when he was high on cocaine and speed, according to an extract of the book that was published in Daily Mail.
Joely says she often had "a baby's eye-view of my own father tying off, prepping a needle and injecting drugs into his veins".
Joely also chronicles the many paternal affairs she was privy to, including the one that would put an end to her parent's marriage – in which Stevens found Fisher in bed with two Swedish women.
Fisher went on to marry a 21-year-old former Miss Louisiana, Terry Richard, from whom he was divorced after just a year, before marrying Betty Lin, a business woman. He died at the age 82 in 2010 from complications from surgery.
Joely says her father her and her siblings with a genetic predisposition to addiction.
Ad. Article continues below.
"You don't get addicted to something just because you're exposed to it," Joely writes, according to the book extract. "My father was predisposed to be an addict; so was my mother; so were we all."
"I think the reason you drink, smoke, eat, shop is that you're trying to quiet that inner critic, that feeling of worthlessness, or lack, or inadequacy."
Do you remember Eddie Fisher's songs? Do you think his daughter should've left his skeletons in the closet?