'The love of my life': Patti Newton shares sweet tribute to Bert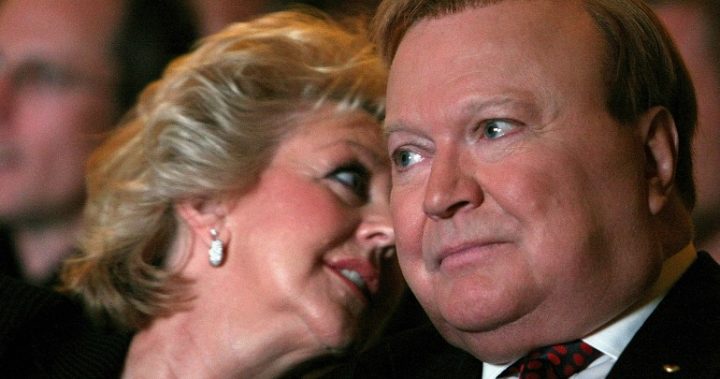 Bert and Patti Newton have long been one of Australia's most beloved celebrity couples. According to police who were present at their wedding in the '70s, "there were ten thousand people outside the church" on the day the two entertainers were married. 
Despite the fact that Bert and Patti are now retired from full-time media work, there's still just as much hype surrounding them. Patti shared a photograph of their wedding day to her 10,000 Instagram followers today.
"1974 Bert and I were married today, we've had a wonderful life together. The love of my life xx," she captioned the photo.
Ad. Article continues below.
Read more: The moment Bert Newton realises he has a bit of competition
The Instagram post, which appears to have been taken of a photo in a well-loved family photo album, shows Bert and Patti standing together while best man Graham Kennedy pours another glass of champagne. Clad in a classic '70s wedding gown, Patti can be seeing watching Kennedy delightedly as the legendary entertainer and variety performer pulls a classic comedic expression for the camera.
Fans of the Newtons sent their congratulations via social media, with many calling them "Australia's golden couple" and "Aussie royalty".
"What wonderful memories this photo brings back. The great days of Aussie TV … that WAS reality TV; live to air with no staging or out-takes! We've loved you all these years, Patti and Bert. Happy Anniversary and many more ahead!" [sic] one adoring fan wrote. 
Read more: Bert Newton honoured with birthday surprise
Ad. Article continues below.
Patti and Bert met while working together in radio and at HSV-7, part of the Seven Network. Earlier this year, Patti shared the story of how she and Bert got engaged. 
"I was working on the QE11 in 1974 43 years ago. Bert surprised me and got on board and asked me to marry him. A wonderful Australia Day and the best thing I ever did xx," she wrote on January 26. 
Ad. Article continues below.
She also shared a stunning wedding photo on their anniversary last year, which shows the two gazing lovingly into each other's eyes. 
"The journey has been wonderful," she wrote, "we are so lucky." 
Read more: Patti Newton reveals shingles battle so other seniors seek help
Ad. Article continues below.
Together, they have two children, Matthew and Lauren, and four grandchildren from Lauren. 
They've been devoted grandparents, with Patti frequently sharing photos of the energetic little tykes on her Instagram account. 
Patti and Monty, the youngest grandchild, ended up in hospital on the same day in October, with Patti suffering from a head injury after a fall and Monty breaking his collarbone. 
"Thank you for all your lovely good wishes," Patti wrote in her caption. "We're recovering together." 
Ad. Article continues below.
What's the most recent anniversary you've celebrated?