Someone's paid big money for the Trumps' 12-year-old wedding cake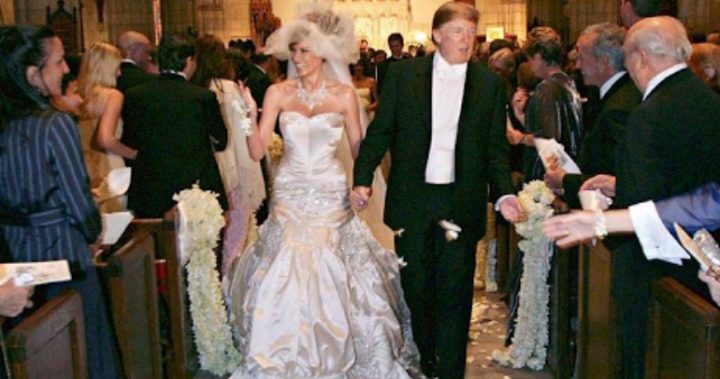 We're all used to taking home a piece of cake or some other little gift or favour from a wedding – remember the bags of sugared almonds that used to be the norm? 
Mostly they got stuck in the fridge, freezer or cupboard and forgotten. But someone who partied at Donald and Melania Trump's 2005 wedding held on to their favour, and has now made a nice little profit on it.
A souvenir cake from the nuptials was sold at an auction in California for a gobsmacking US$2,240 (A$2,965.85, £1,696.79). 
More than a decade old, the mini-dessert was auctioned at Julien's Auctions, an entertainment auction house in Los Angeles, as part of Julien's 'Icons and Idols: Hollywood and More' auction. 
The cake was described as a chocolate truffle cake, layered in a white rose frosting, housed in a white paper box monogrammed with 'MDT'.
Ad. Article continues below.
Want to own Donald and Melania Trump's wedding cake? Well, now you can https://t.co/k3Qw5jh7dB pic.twitter.com/xmFzsMZZrn

— Newsweek (@Newsweek) November 15, 2017
The Hollywood Reporter that the cake was given to guests as a wedding favour. The anonymous seller produced a wedding invitation to prove that the dessert was legitimately from the event.  
Julien's Auctions originally had the bidding at only $250 (A$330.810, BP£189.298). 
The actual wedding cake was a US$50,000 (A$66,167.49, £37,867.58), seven-tier masterpiece, weighing in at more than 90 kilograms.
Ad. Article continues below.
According to The Hollywood Reporter, the wedding cake was made with a classic yellow sponge, filled with buttercream, flavoured with orange zest and soaked in the orange-flavoured liqueur, Grand Marnier.  It was topped with 2,000 individually constructed, spun-sugar flowers.
Probably unsurprisingly, no guest had a chance to actually taste the cake, as it was filled with wires to ensure it retained its impressive appearance.
What kind of cake did you have at your wedding? Did you keep a tier for your first wedding anniversary?