Billy Connolly can't resist a Parkinson's joke as he gets royal honour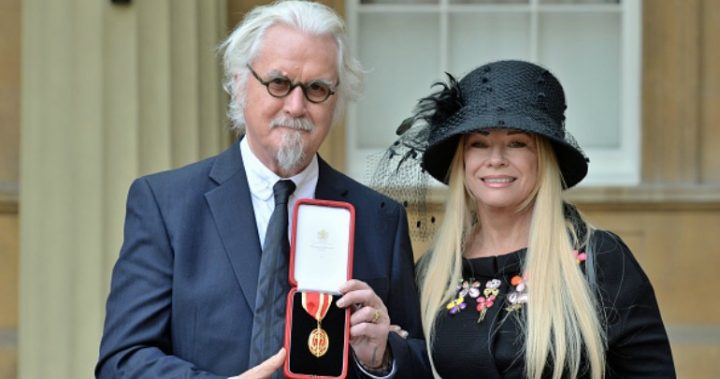 Beloved comedian Billy Connolly was knighted by the Duke of Cambridge at Buckingham Place, his wife Pamela Stephenson watching proudly on as the 74-year-old received one of Britain's greatest honours from Prince William.
But the Scotsman couldn't resist making a little self-deprecating joke about the Parkinson's disease that he revealed in 2013 he had developed.
During the ceremony, knighthood recipients have to kneel in order to receive the honour.
"I sighed with relief when I saw the stool had a handle," Connolly told The Sun, intimating that getting down and back up again may've been tricky for him. "It wouldn't have crossed my mind before."
That said, he added that he didn't let Parkinson's affect him more than absolutely necessary. 
Ad. Article continues below.
"What I do is ignore it completely and get on with my life," Connolly said, saying he wasn't entirely comfortable with being a 'poster boy' for the condition.

Although the new Sir Billy received his honour for his services to the charity and entertainment industries, he also took the opportunity to talk about something a little more serious.
In light of the latest sexual harassment scandals currently engulfing Hollywood, he had a curt message for men in the movie business.
Ad. Article continues below.
"Men will have to get a grip on themselves," he told The Sun, adding that they needed to learn "things they should have known for years ago – manners".
Connolly, who is known for being outspoken, said he was happy, though, that the issue was now in the open. 
"I think the air is going to be cleared and a lot of things that should have been done years ago are going to be done to protect young men and women," he said. "I think that's going to spread to government, to industry, to university, to all sorts of realms, anywhere power is exercised over the powerless.
Congratulations to Billy Connolly who today received a Knighthood from The Duke of Cambridge for his services to entertainment & charity. pic.twitter.com/8ZVK5pChKK

— The Royal Family (@RoyalFamily) October 31, 2017
Do you think Sir Billy has the right approach to dealing with a serious condition?