Roger Federer launches angry outburst at umpire, as Chung retires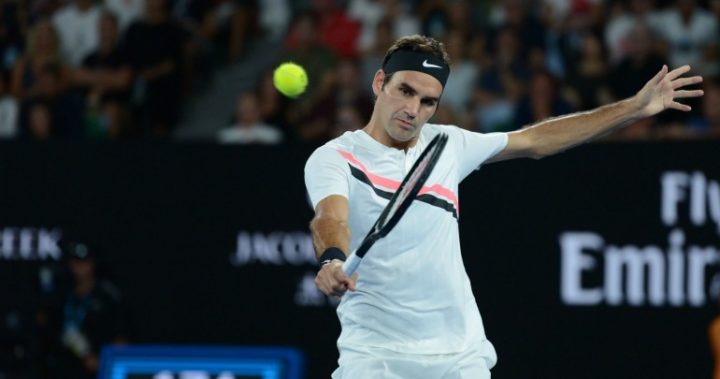 Roger Federer struggled to keep his cool and launched into an angry outburst at an Australian Open umpire on Friday as he took on Hyeon Chung in the semi-final.
But despite the explosive moment, he went on to secure his place in the final as Chung was forced to retire due to blisters.
When Chung sent a wide serve to Federer's backhand, it was initially called out – however another umpire later overruled it, sparking shock from the tennis ace.
According to the Mail Online, as Federer turned round, the umpire explained: "The call did not hinder you. The call was out and you missed the shot." Distinctly unhappy with the decision, he reportedly replied: "That's a bulls**** argument, it was during the shot."
Despite the setback, the 36-year-old was a clear winner after Chung retired due to foot blisters when the score stood at 6-1 5-2. Federer expressed his sympathies for his opponent after the match.
Ad. Article continues below.
"I know he has had a problem with a blister, I've played with them a lot and they hurt a lot," he reportedly told reporters. "It is better to stop. I'm incredibly happy to be in the final but not like this. He has had such a wonderful tournament."
It's not the first time Federer has publicly challenged an umpire's decision during the tournament, and just days ago he hit out in the first set of his win over Tomas Berdych.
According to the Express, Eurosport commentator Simon Reed said: "He's getting antsy again. Let's hope it doesn't change his tennis. I have to say I thought Federer had a point there."
Have my tv on mute while I homework, look up and find that Federer is having it out with the umpire. What did I miss?!

— Carina Jane Bond (@CarinaJBond) January 24, 2018
Ad. Article continues below.
Roger Federer just murdered an umpire in cold blood on centre court. #ausopen

— Neil McMahon (@NeilMcMahon) January 24, 2018
Meanwhile, it hasn't all been doom and gloom on the court, as Federer was surprised with an impromptu interview a few days before. He struggled to contain his laughter as he was quizzed about everything from his "ageless" appearance to his "gazelle-like" playing by Anchorman actor Will Ferrell, 50.
Read more: Amused Roger Federer quizzed on 'ageless looks' in bizarre interview
The star slipped into his famous Ron Burgundy character and stepped on to court following Federer's win over Aljaz Bedene, much to the delight of the crowd.
Ad. Article continues below.
"In the immortal words of Ron Burgundy, it's great to be here with two tennis legends — Roger Federer and John McIntosh," Ferrell began, according to news.com.au. He added: "Roger, tonight you seemed like a gazelle out there on the court. Would you describe your game as a silky gazelle?"
A baffled Federer responded: "Maybe, maybe not. Don't they get eaten at the end?" Moving swiftly on however, Ferrell then turned to the tennis star's looks.
"Quick question Roger, you're 36-years-old, you seem ageless, are you a witch or a vampire?" He asked. But Federer simply responded that he didn't like either.
From there, the awkward chat covered everything from wombat meat, (which Federer denied eating), through to his name and age.
Ad. Article continues below.
Are you a fan of Federer? Do you think he was right to challenge the decision?
With Facebook removing news sites from your feeds we ask that you sign up for Starts at 60's emailers here. And to keep us on your wall, join some of our new Facebook groups and clubs:

News Junkies Club – Australia
News Junkies Club – USA 

See news on the change and links to all our other clubs and groups here.