Piers Morgan reveals Sharon Osbourne once tried to kill him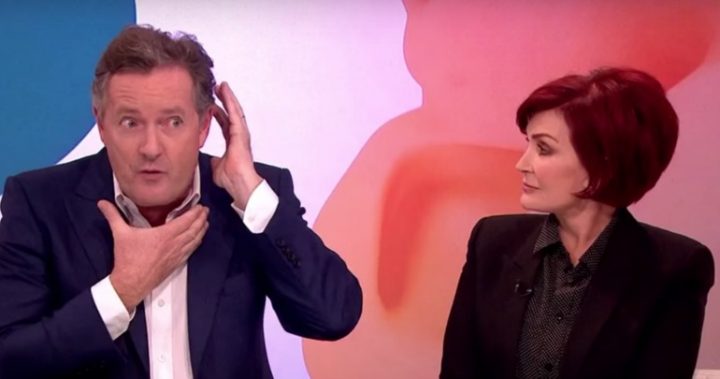 He's one of the UK's most controversial journalists and TV personalities and Piers Morgan has revealed that his controversial articles nearly got him killed.
Appearing on Monday's episode of British chat show Loose Women, the 52-year-old revealed that Sharon Osbourne once tried to kill him.
The pair appeared on the show together and while he was laughing while recounting the story, he said that things got serious.
He explained how he was a judge on America's Got Talent in the United States and that Sharon Osbourne would be joining the panel.
Ad. Article continues below.
Given that he'd written some nasty articles about her, he said he wasn't entirely thrilled with the idea of her joining him on the show.
He explained: "I was like, 'that could be awkward' because I'd written some, you know, not entirely complimentary things about Sharon. Anyway, we meet for a dinner with NBC [the network America's Got Talent was on] and all their executives and Jerry Springer, who was going to be the new host, which was just as well given what happened.
"Dinner went ok. Ozzy was there. We were all getting on fine. Then I said something a little confrontational."
Both Morgan and Osbourne said they couldn't remember what the comment was before he continued with his story.
"What I do remember is the next thing, Sharon had run up behind me. Remember, all the top executives are here for this massive show.
Ad. Article continues below.
"She runs up behind me, this is the night before filming is due to start, and begins to strangle me to death."
The crowd erupted in laughter as Osbourne nodded to agree that that's what really happened.
Morgan went on: "It wasn't funny. She was literally throttling me. Ozzy was trying to pull her off. Eventually Jerry Springer of all people has to literally pull her off me."
Osbourne could be seen bursting into laughter as Morgan told the story.
He went on to explain how his feisty co-star rang him later that evening to apologise for trying to kill him.
Ad. Article continues below.
Despite that, he said that the TV network was taking no risks when filming for the talent show began: "The next day we arrive on set and NBC have basically got 50 bodyguards trying to keep us apart."
By that time the pair had made up and eventually starred on the show for four years.
At least they can laugh about it now.
What do you think of Piers' story? Are you shocked by Sharon's behaviour?