Penny Lancaster reveals sexual assault ordeal on live TV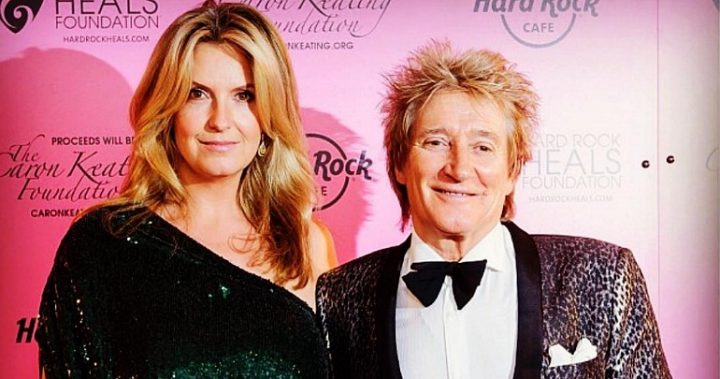 Penny Lancaster has revealed she was drugged and sexually assaulted as a teenager, adding her voice to the growing list of female stars telling similar stories in the wake of the Harvey Weinstein scandal.
Lancaster, who is married to singer Rod Stewart, made the revelation on British talk show Loose Women on Friday.
"In my late teens I had a job with a fashion designer and he invited me to an event. I was interested, I thought I'd get more work," she explained.
"I went with him and he said he had to stop at his apartment. He had a little bar in his apartment and said he'd pour me a drink while he went to pick up his bits."
She fought back tears as she recalled waking up, face down, to find the unnamed man on top of her in the bed.
Ad. Article continues below.
"… My drink was drugged and I can't remember much of what happened. I just know he was on top of me enjoying the experience, but I certainly wasn't. I don't remember much more."
Like many young women, Lancaster said she was too frightened to tell even her parents and kept the assault a secret for years.
"I was just naive, I trusted him. I had never had sex at that point so it was a frightening thing. I didn't tell my mum and dad because I thought they'd say, 'What on earth were you doing going back to his house?' But he was I guy I'd worked with, and he promised I'd meet other people. You try to pretend it never happened… I was too afraid to tell anybody."
While the former model is now happily married to Stewart, her story is one many women, both young and old, can relate to.
There has been a strong push in recent years for women to talk openly about their sexual assault in the hope it will help shine a light on the astounding number of vile attacks on women around the world every year.
Ad. Article continues below.
However, this wasn't always the case and many Baby Boomer women are still living with secret stories of assault from their younger days.
Lancaster's revelation was met with applause from fans who thanked her for coming forward.
"Poor Penny. Nobody should go through that. I had a similar experience but thankfully was OK. Many years ago," wrote Norma Hornby on Twitter.
"Her act of bravery today will have helped so many people. Bless her so much. Hope she has wine and chocolate tonight," wrote another fan.
Plenty of female celebrities have come forward with similar stories in recent weeks in the wake of the Harvey Weinstein scandal.
Ad. Article continues below.
The Hollywood producer is being accused of sexually assaulting multiple women throughout his career, with actresses Angelina Jolie, Gwyneth Paltrow, Rose McGowan and many more saying they experienced sexual harassment or assault at his hands.
Read more: Rod Stewart and Penny Lancaster say I do, again
Read more: Rod Stewart says his son likes 'dressing up like a lady'
Can you relate to Penny's experience? Do you think it's better now women can talk more freely about this sort of thing?