Oprah and bestie look relaxed at billionaires' summer camp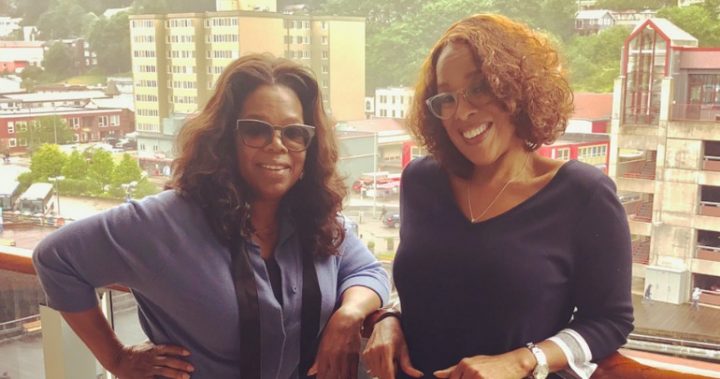 Oprah Winfrey and her best friend Gayle King were just two of the guests aboard music mogul David Geffen's $300 million yacht last week, reportedly to attend Google's summer camp for billionaires.
Diane Sawyer, designer Diane Von Furstenberg, actress Julianna Margulies, and Disney CEO Bob Iger were also on board to attend Google's exclusive three-day summer camp.
The annual camp for billionaires is held at the luxurious $1,770/night Verdura Resort in Sicily. 
Geffen took to social media to post snaps of his famous friends smiling on his yacht Rising Sun, which he anchored right off shore from the resort.
Ad. Article continues below.
Everyone smiled big for the camera, including Russian businesswoman Zhukova, whose divorce to Roman Abramovich was announced just days later.
Geffen posted a photo of him, Zhukova, and oil heir Michael Hess relaxing in their swimsuits on board Geffen's luxurious yacht.
Ad. Article continues below.
He also posted a pic of his famous crew, including Von Furstenberg and her husband Barry Diller, Oprah, Sawyer, King, and Margulies and her husband Keith Lieberthal, enjoying a casual meal at Lo Scoglio.
Oprah's bestie King also posted a happy snap of the group enjoying their time in Italy on a hike.
Ad. Article continues below.
The Daily Mail reported that it seemed "likely" Geffin and his famous friends hung out during Google's "top secret" summer camp which is hosted by Google's billionaire co-founders Larry Page and Sergrey Brin.
Each year the pair invite a select few of the globe's wealthiest leaders in business, tech, sports and entertainment to enjoy discussions in the morning and lavish dinners and performances at night.
There are also day trips around the coast, visits to wineries and local sights, and spa treatments. 
Ad. Article continues below.
On the last night of billionaires camp, Google forks out more than $80,000 renting the enormous Valley of the Temples ruins for a concert and sit-down dinner for 300. 
This year Elton John and Lenny Kravitz were featured. 
The Daily Mail reported this year that Prince Harry and actress Emma Watson also attended the camp. 
What's the best summer camp you ever went to?