OJ Simpson walks free after nine years in jail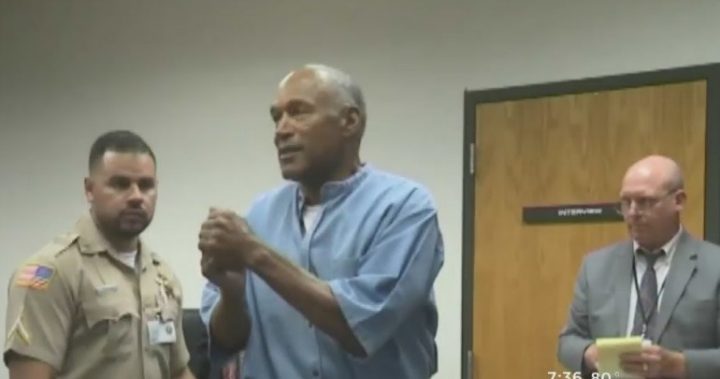 OJ Simpson has been released on parole from prison in Nevada where he has served the past nine years for a Las Vegas armed robbery. 
The notorious ex-US football star was freed just after midnight, local time, and will face another five years of parole supervision. 
Simpson, 70, signed his release papers, before quietly leaving the prison under darkness, dressed in prison denim jeans and jacket, white sneakers, and a hat, and carrying the few possessions he had from his time in incarceration. 
Read more: OJ Simpson released on parole: 'I've done my time'
Simpson was sentenced to a 33-year prison term in 2008 with a shot at parole after nine years, after the former footballer and an associate were arrested in Las Vegas for kidnapping, armed robbery and assault with a deadly weapon when attempting to steal some of Simpson's own sports memorabilia.
Ad. Article continues below.
After a rambling bid to the parole board, OJ Simpson was granted parole by a unanimous vote.
Simpson's plea for parole was streamed live from the Lovelock Correctional Facility in Nevada, with viewers around the world watching on to see if he would be released after serving just nine years of a 33-year sentence.
Of course, it is't the first time Simpson has experienced walking free, having done so following his murder trial in 1995. 
Simpson was arrested following the murder of his former wife, Nicole Brown Simpson, and her friend Ron Goldman in 1994. Though acquitted of the crime in a criminal court, Simpson was found at fault in a civil suit in 1997 and was required to pay more than $30 million to the victims' families.
Have you followed OJ Simpson's cases over the years?