Nicole Kidman posts touching tribute to mum and sister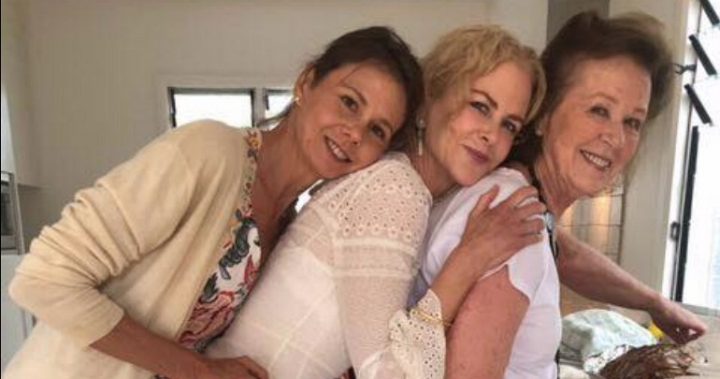 Nicole Kidman has posted a loving tribute to her mother and sister on social media after spending Christmas with the pair in Sydney.
Kidman and her husband Keith Urban brought their two daughters to Australia for the festive season to celebrate with their families away from the freezing temperatures at their home in Nashville, Tennessee.
Kidman took to Facebook on Wednesday to share a photo of herself with sister Antonia and mother Janelle.
"I love these women from the deepest part of my soul. So grateful to have spent the holidays with my mumma and sister," she wrote.
Ad. Article continues below.
This year marked the trio's fourth Christmas without their beloved husband and father Anthony Kidman, who died unexpectedly from a heart attack in Singapore in 2014. He was 75 years old.
Appearing on the Ellen DeGenerous Show not long after her father's death, Kidman said people need to be more comfortable talking about loss.
"I've realised we don't talk about it enough in terms of our society," she said. "Everybody loses their parents and it's awful. I'm sorry to bring everything down, but I'm at the same time trying to navigate through something right now.
"And I'm amazed when people reach out, because it's an awkward thing at times, but to have people go, 'I'm so sorry for your loss … the power of that, and even a note or anything, which I've gotten so much love from people. … When you realise that someone has gone through a similar thing or is going through a similar thing, it really connects you."
She also spoke about the incredible support Urban gave her through the difficult period.
"When you have your partner who just literally carries you through a tough time — he's been amazing to me," she said. "To have my husband just step up that way, it makes me cry. He's amazing. … We all go through hard times in our lives, but to be literally carried by your partner, and physically at times because I was so devastated. I'll do anything for that man."
Do you think people need to be more comfortable talking about death? Have you lost a parent? How did you handle the grieving process?