Nick Kyrgios is finally showing some tact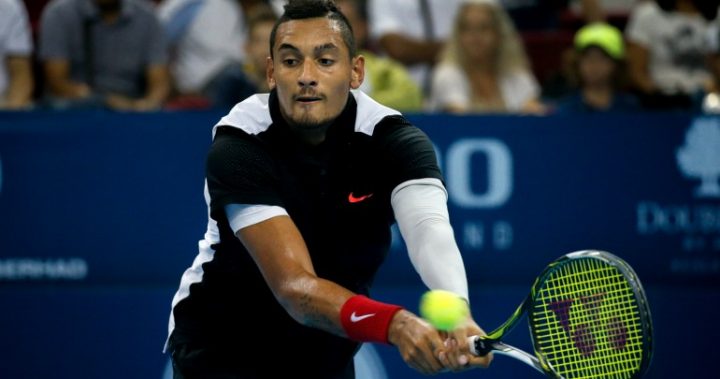 Are the days of temper tantrums and pulling out of matches finally over for Nick Kyrgios? It's probably too early to say, but the 22-year-old tennis player is showing great promise, and he could even become the first Australian Masters series champion since 2003. 
Kyrgios has even bested Rafael Nadal in the ATP World Tour Masters 1000 in Cincinnati. Rather than publicly revelling in the glory of beating the incoming top male player in the world, Kyrgios had the grace and class to take a moment to pay tribute to Nadal's home country, where a Barcelona terror attack killed 14 people and injured more than 100 on Thursday, August 17. 
Rather than signing his own name on a camera lens, Kyrgios chose to write "Barcelona" accompanied by a love heart to show his support. 
A special message for Barcelona from @NickKyrgios.#CincyTennis pic.twitter.com/DjbzLw7u5Y

— Tennis TV (@TennisTV) August 19, 2017
Ad. Article continues below.
It's been a rough year for the Aussie tennis sensation, with a fall from grace in the eyes of the public. Kyrgios recently retired from the Washington Open, claiming a shoulder injury, and was booed off court for his poor performance. 
Kyrgios also retired from his first 2017 Wimbledon match due to a chronic hip injury. He was supposed to be recovering from that hip injury when pictures emerged of Kyrgios playing basketball with friends.
These circumstances, combined with Kyrgios's trademark temper, have led to many fans questioning whether he's "doing a Tomic" and only playing half-heartedly to get enough of a payout before retiring from tennis completely. 
After quitting the Washington Open, Kyrgios said he was "far from ready" and didn't want to jeopardise his changes in the US Open, which runs from August 28 to September 10, 2017. While it seemed unlikely that he would be fit enough in the time-frame, his improvement on the court in the past three weeks makes him look like a shoo-in. 
Read more: Nick Kyrgios blames a family tragedy for losing French Open 
Ad. Article continues below.
Kyrgios's recent wins have raised him to number 17 in the world. He'll face off against Bulgarian Grigor Dimitrov in the deciding match.
Lleyton Hewitt was the last Australian Masters winner in 2003, and the last Australian Masters finalist since 2005, when he lost to Roger Federer.
Do you think Kyrgios is finally turning over a new leaf?