Melania sick of D.C., wants Christmas on a 'deserted island'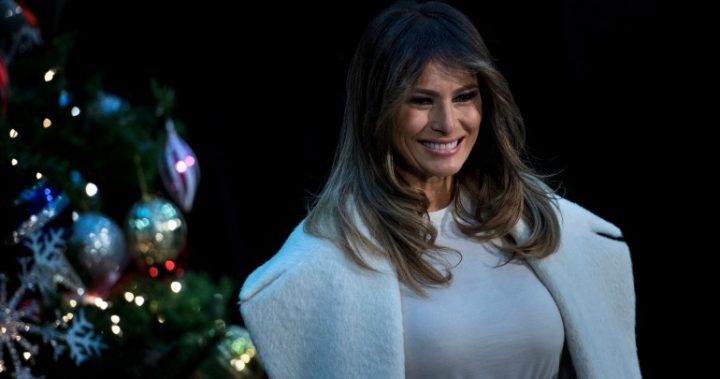 During a visit to the Children's National Hospital in Washington, D.C., Melania Trump revealed that she'd like to spend the Christmas holiday on a deserted island.
"I would spend my holidays on a deserted island, a tropical island, with my family," the First Lady responded after Andy, 10 asked her where she would spend the holidays if she could go "anywhere in the world", The Daily Mail reported. 
While the White House is famed for its lavish Christmas dinners and extravagant decorations, it seems the First Lady would rather spend time away from the all-consuming politics of Washington. 
There was plenty of talk at the beginning of the Trump presidency about how the president's socialite wife would handle being thrust into the spotlight and forced into official duty. 
However, Mrs Trump has undoubtedly risen to the occasion and put her name to a number of important causes, including opioid addiction and an anti-cyber bulling campaign, since taking on the role. 
Ad. Article continues below.
Mrs Trump made her third trip this year to the Children's National hospital to greet children and read them one of her Christmas favourites, The Polar Express. She talked about her love of the book, while she read to the group. 
Ahead of her arrival, the she took to social media to express her excitement. 
On my way to @childrenshealth to read a #Christmas book and visit with some of the brave patients. Please keep all who are struggling with health issues in your thoughts & prayers this holiday season.

— Melania Trump (@FLOTUS) December 7, 2017
The tradition of First Lady visits to the hospital dates back more than 60 years.
Ad. Article continues below.
The Slovenian-born former model stunned in an all-white ensemble, completed with a pair of snakeskin heels. Sporting her signature look, she draped a white coat over her shoulders.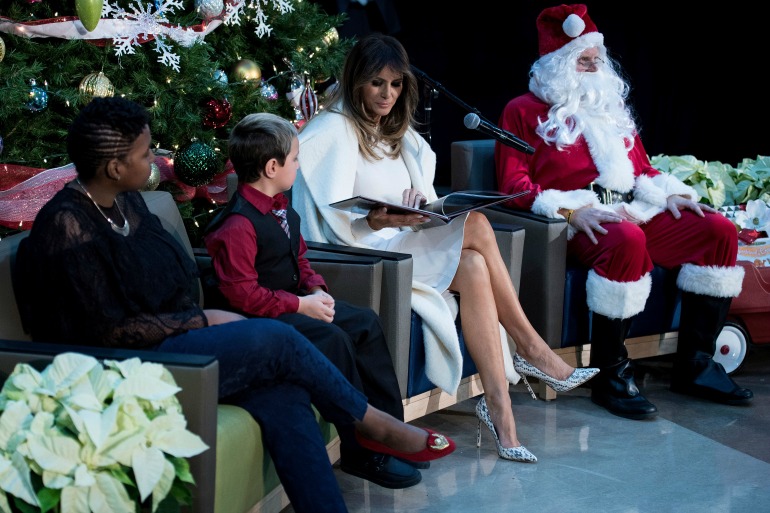 Mrs Trump participated in a brief questionnaire, where she was first asked about her favourite Christmas song.
Ad. Article continues below.
"My favourite Christmas song is 'Oh, Holy Night', and what is yours?" She asked a child, who replied 'Jingle Bells'.
She was then asked about her dream holiday spot, where she confessed she'd like to spend the holidays on a deserted place. 
NBC News posted a video to Twitter, of Trump responding to questions.
First lady Melania Trump answers questions about Christmas from children: "I would spend my holidays on a deserted island, a tropical island, with my family." pic.twitter.com/pQKDBynLAG

— NBC News (@NBCNews) December 7, 2017
Ad. Article continues below.
Another child asked the First Lady her favourite family Christmas tradition. 
"Our family Christmas tradition is that Christmas Eve we have a dinner and we go to midnight mass or Christmas day mass the next day, and then another family dinner, and Christmas on the 25th, Santa comes, we open the presents," she said.
"The most important part is to spend time with your family," the First Lady added. 
Finally, she was asked about what was on her wish list for Santa, this year. 
"I asked Santa for Christmas, peace on the world, health, love and kindness. Thank you."
Ad. Article continues below.
Before she left, Mrs Trump was presented with a Christmas ornament, along with a bouquet of flowers.
Are you looking forward to Christmas? What family traditions do you celebrate?