Lisa and Karl meet up for first time since Today split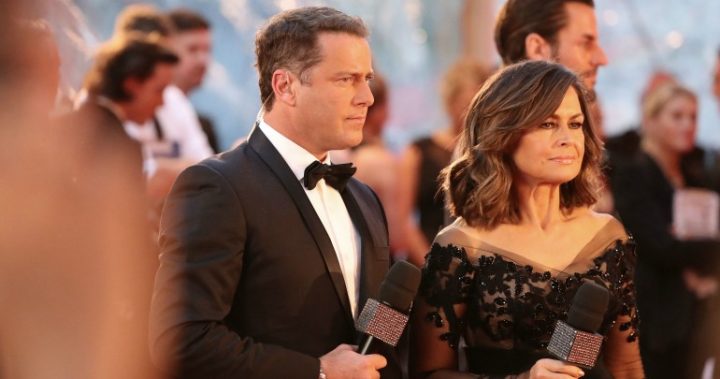 After Lisa Wilkinson's shock resignation from the Today show, many people though it would be a while before she and former co-host Karl Stefanovic would patch things up.
In the end, it took exactly two weeks for the Australian TV personalities to meet up in person; Wilkinson posted a cheery photo on her Instagram account of the two of them, looking happier than ever to be spending time together. 
"The best lunch today with this guy…" Wilkinson captioned the photo, which shows the two of them smiling and laughing in front of the camera while the reflection of the Sydney Harbour Bridge can be seen in the background. 
Ad. Article continues below.
Read more: Lisa Wilkinson breaks silence on how it felt to leave Today
Fans didn't miss a chance to get a little cheeky in the comments.
"Karl's got the whine shine happening," one person wrote, suggesting that a boozy reunion was behind Stefanovic's red cheeks. 
"One of these people has had eight hours sleep," [sic] another commented in reference to the fact that Wilkinson no longer has to get up at 3am to prepare for her breakfast TV gig. 
"Now that's friendship! Someone who respects your decisions in life and can still look past it because your worth having in their life," [sic] a user wrote. 
Ad. Article continues below.
Read more: Lisa Wilkinson jumps ship in shock resignation
Others weren't shy in voicing their opinions about the Today show.
"Not the same any more! 1 boring morning show now. You have let so many of us down!" [sic] one comment reads. 
Some admitted that they hadn't watched the show since Wilkinson's last appearance on Monday, October 16. 
Read more: Karl Stefanovic announces he's running for prime minister
Ad. Article continues below.
Wilkinson posted on Instagram and Twitter about her decision a week after leaving the show, and said that one of her only regrets was "that I never got the chance to say goodbye to you all…the incredibly supportive, engaged, opinionated, clever and wonderfully diverse audience of Today". 
Read more: Lisa Wilkinson celebrates 25th wedding anniversary in style
Wilkinson left her position at Channel Nine due to a pay dispute, during which she was allegedly seeking pay parity with co-host Stefanovic. Just one hour after announcing her immediate resignation from Today, Wilkinson announced that she had been snapped up by Channel Ten. She will begin hosting the new Sunday night edition of The Project in 2018. 
Have you kept in contact with any co-workers after leaving a job?