Korean pop star outshines Melania Trump in hilarious viral video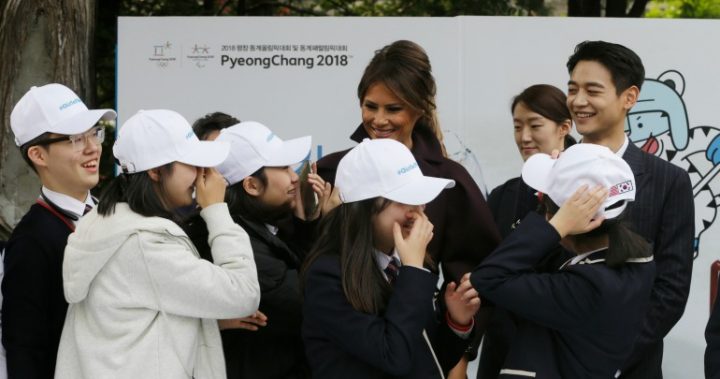 She's one of the most recognisable people in the world, but First Lady of the United States Melania Trump was recently snubbed by young school girls on a visit to Korea.
The 47-year-old was in Seoul making a speech about how more girls should be involved in sports.
The speech was to coincide with the 2018 Winter Olympic Games being held in PyeongChang.
Read more: Melania Trump stuns in simple sophisticated style in Japan
While it's usually her stunning outfits or her husband's wild behaviour that trends on social media, it was an awkwardly hilarious encounter with a group of teenage girls that had everyone talking about Mrs Donald Trump.
Ad. Article continues below.
Imagine meeting Donald Trumps wife but instead you see Minho at the corner pic.twitter.com/mu7s9Dx3Ed

— Issy ?Pin if unf (@jintagyu) November 7, 2017
In the video, a group of girls at the event can be seen gathering around Trump.
One of the girls covers her mouth in disbelief and at first it looks like she's in complete awe of seeing the First Lady.
Trump doesn't quite know what to make of the girl's excitement.
Ad. Article continues below.
The girl then taps her friend on the shoulder and it's revealed that they're actually fangirling over a popstar who is also at the event.
Read more: Melania Trump looks ravishing in white sleeveless dress
While he may seem like a nobody to us, K-Pop star is one of the biggest stars in Asia.
He's part of a band called SHINee. Their popularity could easily be compared to that of The Beatles.
Trump couldn't help but smile at the girls' reactions – something that sent social media into a frenzy.
Ad. Article continues below.
One person wrote: "This is the first time I have ever seen the first lady smile."
Another person joked: "Trump hasn't seen Melania smile like that… ever?"
A third added: "I have never seen Melania smile that genuine next to Trump."
The visit was one of many stops on Trump's 12-day visit of Asia.
How do you think Melania handled herself in the situation? Have you ever fangirled over anyone like the kids in this video?