Kathy Griffin's heartbreaking post after sad family news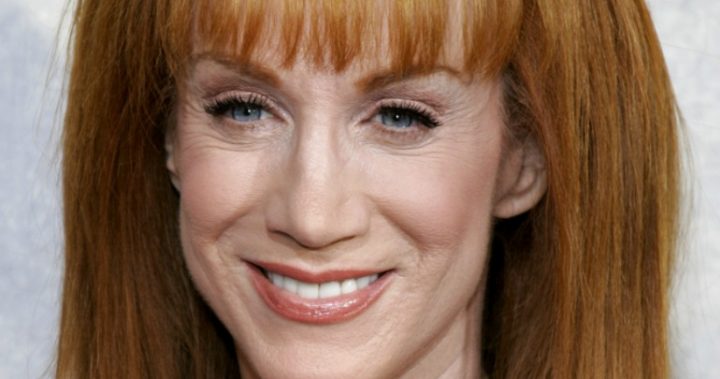 Kathy Griffin has revealed that her sister has passed away from cancer. 
The comedian tweeted on Saturday that her sister, Joyce, had died the night before. She included a heartbreakingly sweet video of a clearly very ill Joyce in hospital. 
"My sister Joyce passed away peacefully last night. Check out this beautiful moment," she wrote. 
My sister Joyce passed away peacefully last night.
Check out this beautiful moment.
Support @AmericanCancer here: https://t.co/llSJg4sLGE pic.twitter.com/ElpwY937ZZ

— Kathy Griffin (@kathygriffin) September 15, 2017
Ad. Article continues below.
The video shows Joyce in hospital, gaunt and weak, with a soft, pink beanie covering her bald head, and various wires connected to her, yet enjoying some live music being played in her room. 
Read more: Kathy Griffin verbally attacks Australian TV host on air
You may remember that Griffin, 56, shaved her head completely bald early in August in solidarity with her sister who was undergoing chemotherapy at the time. 
Read more: Unrecognisable Kathy Griffin shocks fans with new look
More than 4,000 friends, celebrities, and fans replied to the sad tweet with their condolences, offering support for Griffin in her time of need. 
Ad. Article continues below.
It comes on the back of several controversies which have followed the star, beginning with a video where she was pictured holding up a dummy severed head in the likeness of Donald Trump. 
She originally apologised for the picture, however now has reversed that stance, saying it was blown out of proportion. 
Most recently, she mouthed off at Aussie breakfast television host Samantha Armytage after she questioned her about the now infamous picture. 
"You're full of crap," she shot at Armytage. "Stop this. You know this. Stop acting like my little picture is more important than talking about the actual atrocities that the President of the United States is committing."
Have you lost a sibling before? Do you have any advice for Kathy Griffin at this difficult time?