Karl Stefanovic announces he's running for prime minister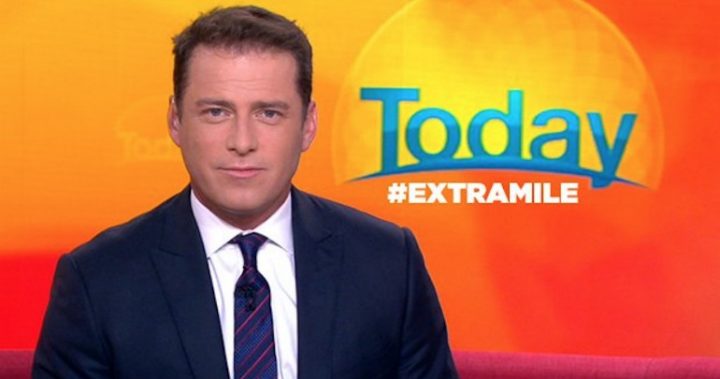 Prime minister Stefanovic? That could be Australia's future if Today host Karl Stefanovic is serious about stepping into the political arena.
The breakfast TV star published his manifesto and plea for a vote in The Daily Telegraph on Sunday, saying he was "angry about the leadership of our country" and wants to do something about it.
Without a hint of sarcasm or indication that he was writing as a satirist, Stefanovic lay out his plan for the country and asked for Australia's vote.
"I don't like Muslims. I don't like gays. I don't like the environment and I don't want to preserve it. I need some government handouts. I think there should be more reality television, funded by taxpayers — on Channel Nine," he began his strange article.
"Now that I have your attention, my name is Karl Stefanovic and I'm running for Prime Minister."
Ad. Article continues below.
He went on to talk about everything from taxes to power bills and climate change, scolding the Government for letting power companies get away with high prices and suggesting a $50 tax for all tourists entering the country to go towards saving the Great Barrier Reef.
"We've got the world's most abundant natural resources — coal, gas and uranium — yet we're paying the world's highest electricity prices. It just doesn't add up. It is all good and well to do our bit for the planet but no-one thinks shutting down Australian industry and costing local jobs makes sense," he wrote.
He spoke a lot about his grandfathers who he said both immigrated to Australia and worked hard to contribute to the country.
Stefanovic said we need to teach asylum seekers the same values.
"As migrants themselves, my grandfathers would support others getting the chance they did in a place as magnificent as Australia but they would recognise that immigration must always be in the national interest," he continued.
Ad. Article continues below.
"Shifting more and more responsibilities to Canberra just lets the states off the hook
We must control arrivals, not people smugglers. They would say keep the borders tight. They learned on the job here but believed in education. So fund people properly to learn English and settle into Australian life. A good education system isn't just about throwing money at the problem, it's about teaching kids properly and supporting the basics maths, science and literacy."
He also said the country should do away with employment quotas that force companies to hire a certain percentage of women — "smart women find it offensive to be given a job just because they're women," he said — and suggested we instate mandatory national service for young people.
"We should think seriously about national service so our young people start life thinking about others before they think about themselves and we should thank God every day we live in the best country on earth rather than come up with new ways to talk ourselves down," he wrote.
"I am running for Prime Minister. Let's build a greater future together. My grandfathers helped build this country. A vote for me is a vote for the future. Let's build this country again. Oh — and I promise to make sure my citizenship papers are in order."
What do you think of Karl's ideas? Would you vote for him?