Judi Dench, Michelle Pfeiffer's red-carpet experience shines in glam gowns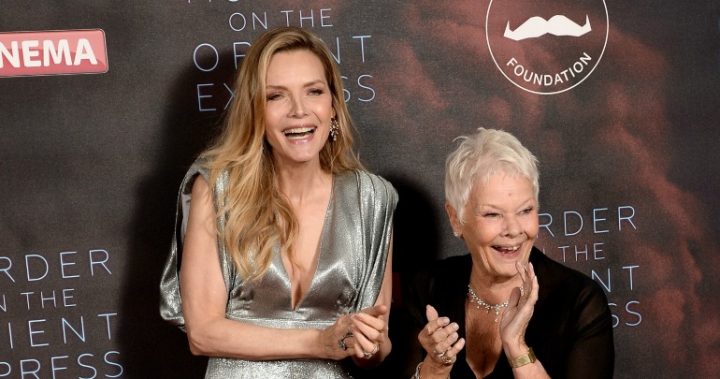 Now this is what we like to see!
At a glamorous film premiere at the famous Royal Albert Hall in London, some strong, mature women brought their A-game at the star-studded event.
While the event was packed with countless twenty-somethings, it was Judi Dench and Michelle Pfeiffer who really stole the show. The pair star in the highly anticipated film, Murder on the Orient Express, and were there to officially launch the movie.
We couldn't help noticing how fabulous the pair looked, proving that age is no barrier when it comes to style.
Pfeiffer, 59, opted for a stunning silver number for the outing. With a plunging neckline, the dress, with flattering loose, very short sleeves, showed off plenty of skin yet was loose enough to move comfortably without pinching. The Scarface actress wore her hair down for the premiere and opted for a more natural look when it came to her makeup.
Ad. Article continues below.
Ad. Article continues below.
Dench also looked stunning, opting for her trademark choice of outfit. The 82-year-old usually wears a flowing jacket with a loose fitting underneath.
Read more: Judi Dench does ethnic-inspired chic to perfection.
This time around she decided to go all black in a comfortable yet chic outfit.
What we love most about these two outfits is that they're practical and look great. Who said we have to let ourselves go after a certain age, or sacrifice comfort for glamour.
Ad. Article continues below.
The premiere of the film comes after one of Dench's co-stars revealed an embarrassing story about the Skyfall actor.
Kenneth Branagh was in Sydney recently to promote the movie and explained how Dench shocked him with a nude mishap when he was convinving her to join the star-studded cast for the film.
Ad. Article continues below.
"We were in a play in the West End. I'd just asked her about being in the Murder on the Orient Express and she said, 'That's so interesting' and walked all the way from the dressing room to the wings," he said.
Read more: Murder on the Orient Express takes classic in a new direction
"We were about to go on for Shakespeare's The Winter Tale and we realised she didn't have the bottom part of her costume on. So she was entirely naked from the waist down, which I hadn't noticed and she hadn't noticed."
Thankfully the movie legend decided to wear pants for the premiere!
Murder on the Orient Express hits Australian cinemas next week.
What do you think of these outfits? Is this something you would wear?