'I'm misunderstood': Bernard Tomic defends 'polarising' behaviour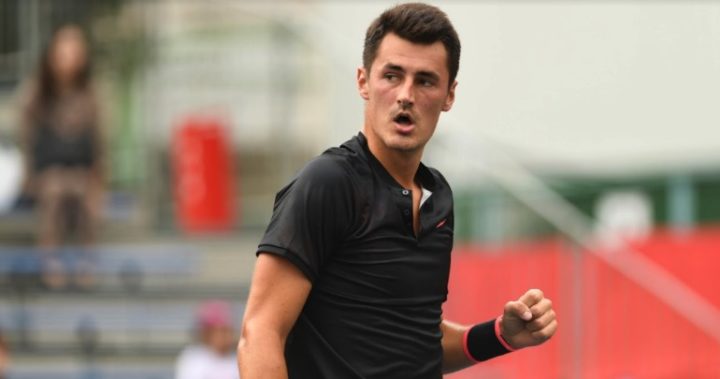 He is known for his angry outbursts and controversial behaviour, but Bernard Tomic has insisted he's actually "misunderstood" and is really "humble" at heart.
The outspoken tennis star, 25, has previously lashed out at haters online, and even had run-ins with police throughout his early career on the court – but now he's spoken out to defend his past temper tantrums, and attempted to explain what sparks them
Speaking on the Miranda Devine podcast on Tuesday, Tomic was asked if he knows he polarises people with his differing views and short fuse. He explained: "I'm very unique, I'm very different to myself – I even trick myself sometimes so that's the problem. I say one thing and do the other, my brain thinks very quickly and I respond differently… Even on the tennis court, I don't even know what I'm doing half the time."
He added: "I think I've only realised that in the past two months, and I need to get back on to a path where I belong."
When fill-in podcast host Jonathan Moran claimed he can sometimes appear very defensive, Tomic agreed, but insisted he's more calm and comfortable around family and friends.
Ad. Article continues below.
Read more: Bernard Tomic reveals real reason behind bratty behaviour
"I know it's the wrong thing to say and do, to aggravate people, it's definitely not the smartest thing, but I'm one of the coolest guys, I'll give a helping hand to anybody, it's just me. I hope over the years people can understand who I truly am."
Admitting he has done "stupid stuff" in the past, Tomic insisted while he regrets some of it, he can also look back and laugh at other bits. "I'm super good with people and kids, this is me," he said. "I've just been misunderstood and 99 per cent of the time I'm doing the right thing, I'm really nice and humble… It's me, I do lash out and say things I regret… Hopefully I can grow as a person over the next decade."
He's had numerous run-ins with the police and has earned a reputation as one of Australian sport's bad boys. Last year, he infamously faked an injury to throw a match during Wimbledon. At the time, he said he was "bored" of the game and was ordered to fork out a $20,000 fine. Given that he's worth millions, it wasn't something he saw as a big deal. In fact, he later boasted about his significant wealth. 
He launched an attack on his haters last year, saying most tennis fans would never have the money or lifestyle he does. "End of the day, don't like me or whatever," he told the Sunday Herald Sun. "Just go back to dreaming about your dream car or house while I go buy them."
Ad. Article continues below.
If that wasn't enough, he was arrested in Miami in 2015 following drunken behaviour at a party, received three driving fines in one day in 2012 and got into a punch up at a spa in the same year. That's all in addition to his uninspiring comments about tennis legends including Lleyton Hewitt and Roger Federer. He's suggested that he regrets most of the things he's done in the past, but also pointed out that it's not uncommon for young people to make mistakes.
Tomic recently quit I'm a Celebrity, Get Me Out Of Here! after just three days, admitting to producers at the time that he was "depressed" and had "never felt this bad."
Read more: 'Depressed' Tomic sensationally quits 'I'm a celebrity'
Now, speaking openly about his rapid departure from the show, he said on the podcast: "I doubted myself a few times before I'd actually left to take part in the jungle, I was doubtful. When I got there, only then, I realised I was a bit confused and needed to get out. 
"I only started playing and doing the right things on the tennis court over the last two months, so the whole last year was a waste for me, I didn't do a lot… After starting these last two months, and getting back into it – I played some good matches at the Australian Open – I felt like I needed to get back on court."
Ad. Article continues below.
He insisted getting straight back into it following his departure was "amazing", and he's now focusing on playing in Europe – as the tennis court "is me". However, he admitted it has changed a lot for him over the years – and his passion for it has diminished somewhat.
"I loved tennis at a young age, it was different, it was what I did for fun, and it just became a big business and different at the age of 16-17. I like it, it's like saying you like a girl – you don't love her – that's tennis for me," he explained. "You need it, I'm not going to become a doctor or property developer – I don't know that stuff – my thing is tennis."
Tomic admitted his months out of the game last year made him "wake up" and he's been training hard ever since.
Are you a fan of Bernard Tomic? Can you understand why he can sometimes 'lash out'?