'I miss him every day': Terri's heartbreaking tribute to Steve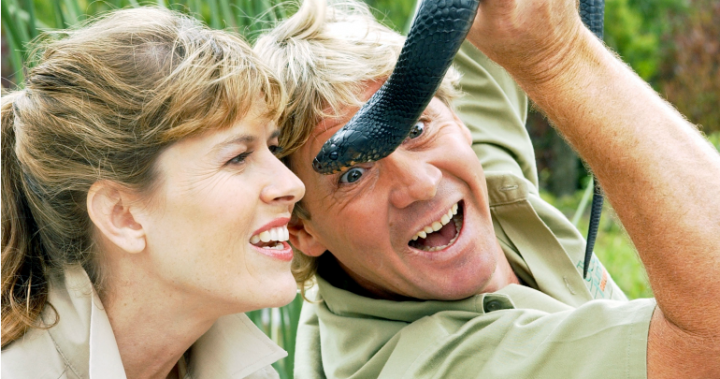 It's been 11 years since Steve Irwin passed away, but he'll live on in through the efforts of his wife, Terri, and his children, 19-year-old Bindi and 13-year-old Robert.
While Steve passed away on September 4, a special Steve Irwin Day is celebrated on November 15 to remember the iconic Crocodile Hunter and celebrate the legacy of wildlife conservation he left behind. The Irwin family appeared on Sunrise this morning to spread a little love and encourage everyone to "wear a touch of khaki" in honour of the wildlife conservationist. 
"I think Steve would be so excited," Terri said of her late husband. "Not necessarily because he was remembered—he would say to me, 'I don't care if I'm remembered as long as my message is.' So we're really doing both. We're carrying on as if he were still here and just treasuring everything that he stood for." 
Terri was adamant that Steve would've wanted them to lead a happy life in his absence. 
"I think it's true of anyone's grief journey; you do have a choice," she said. "You can kind of curl up in a corner or you can do what they would have wanted for you to be healthy and happy and just carrying on with what you're passionate about. Conservation work really isn't what we do; it's really more who we are and I'm very proud to be carrying on where Steve left and I do miss him every day." 
Ad. Article continues below.
Read more: Terri Irwin pokes fun at rumours about her
The Irwin kids were similarly proud of Steve Irwin Day and being able to share in their father's goals. 
"Dad absolutely was our superhero," Bindi said, as she cuddled a koala on-camera. "We've dedicated our lives to making a difference and today is all about celebrating Dad's life and legacy and wearing khaki." 
Steve Irwin Day will be a big celebration at Australia Zoo, with plenty of activities for kids and adults alike, and a live performance by Troy Cassar-Daley. 
Read more: Robert Irwin's Family Feud confusion
Ad. Article continues below.
Hosts Sam Armytage and David Koch asked Robert how much he remembered of his dad, given that he had been so young at the time of Steve's death. 
"Our life has kind of been recorded and captured on camera so it's nice to be able to just press play on these memories and kind of go back in time and see all of the old documentaries that we filmed with Dad and kind of relive the memories," Robert said. "We're very, very lucky." 
Bindi and Robert have been coming into their own over the past few years, with Bindi winning the 2015 Dancing with the Stars series in the US, and Robert becoming well-known for his wildlife photography and stunning similarities to his father.
Both of the young Irwins posted photos to their official Instagram accounts to mark the occasion. 
"He taught me that we must all treat animals the way we wish to be treated," Bindi captioned the photo of herself, her dad and a large wombat.
Ad. Article continues below.
Robert shared a family photo on his account. 
Ad. Article continues below.
"He was the greatest Wildlife Warrior, conservationist and dad on the planet," Robert wrote.
Do you remember where you were when Steve Irwin passed away?