How age has finally caught up with notorious ladies man Hugh Hefner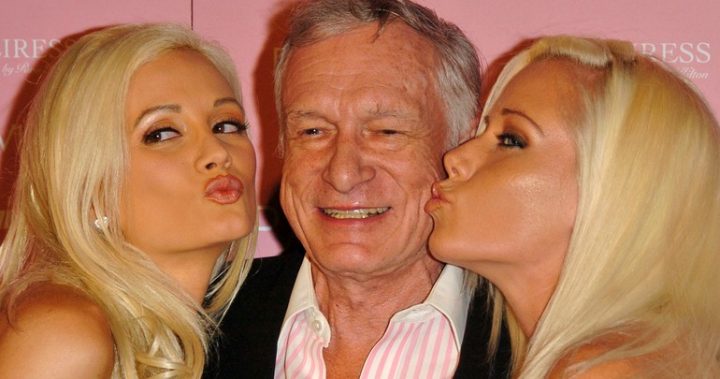 Infirm may not have been a word you thought you'd hear associated with Hugh Hefner, but age had finally caught up with the notorious ladies man.
Ad. Article continues below.
Hefner's son Cooper, 25, has told The Hollywood Reporter that it was difficult watching his 91-year-old father cope with the physical effects of ageing.
"It's tough to watch him struggle, but I'm just happy it's physical, not mental," he said. The story notes that Hefner doesn't like to be photographed with his walking frame or hearing aids and is struggling with back problems, so has receded from public view in recent years,
But as his son points out, Hefner remains as mentally sharp as ever, continuing to give creative direction on each Playboy magazine, although his son is now the company's chief creative officer.
It was Cooper Hefner – Hef's son with 1989 Playmate of the Year Kimberley Conrad – that reintroduced nudes to the magazine, just two years after they were scrapped by former CEO Scott Flanders. One of Cooper Hefner's early moves was to ask his mother to reshoot her original cover, which she did in June.
Hefner, meanwhile, continues to live in the Playboy Mansion, although the infamous house holds far fewer parties than it once did. Instead, Hef hosts dinner and film screenings for old friends every week, The Hollywood Reporter said.
What's your thoughts on Playboy – was it right to scrap the nude pictures, or smart to bring them back?