George and Amal to mark wedding milestone with romantic gesture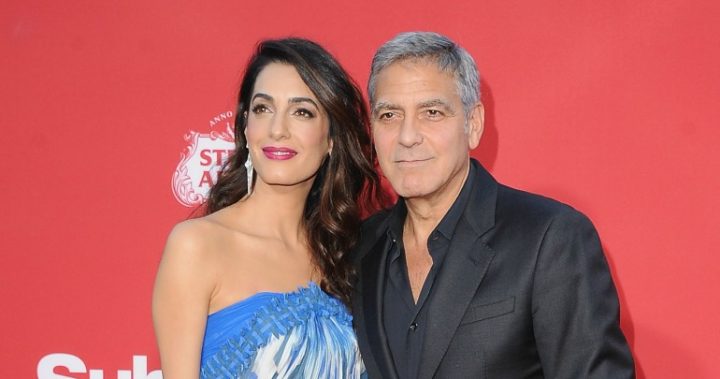 Who said Hollywood couples don't last?
They've only been married for three years but it looks like George Clooney and Amal Clooney are more loved up than ever.
In fact, recent reports suggest that the couple are already set to renew their wedding vows.
According to Radar Online, the Hollywood actor and his humanitarian lawyer wife are set to walk down the aisle again in a lavish US ceremony.
Read more: George Clooney has a cheeky dig at celebs who pick crazy baby names
Ad. Article continues below.
Fans of the power couple will recall that they first got married at a luxury resort in Venice, Italy.
While it was a star-studded event, many of the Clooney's closest friends couldn't be in attendance due to the distance. With the couple and their family set to return to America, a source told Radar that it's the perfect time for them to declare their love for each other in front of close friends.
Read more: Amal Clooney steps out in gorgeous summery dress with George
"It's always bugged George that so many of their friends couldn't attend the first time around in Italy," they said. "This is a great way of throwing a gigantic party for their A-list pals, as well as celebrating their homecoming in a romantic and classy way."
While nothing is yet set in stone, Radar believes that the 56-year-old and his 39-year-old wife are tossing up between two locations for their big day: "George is feeling a lot more sociable since he eased up on his work duties, and he'd love to organise a fancy wedding in either New York City or L.A.
Ad. Article continues below.
Read more: Amal Clooney makes stunning post-baby return to red carpet
"What better way of pledging his loyalty to America by saying his vows here. It kills two birds with one stone."
If their nuptials do go ahead, the Clooneys will join a long list of celebrities who have renewed their vows. Most notable include model Heidi Klum and her ex-husband Seal, Matt Damon and Luciana Barroso, and Alec and Hilaria Baldwin.
Is it too soon for George and Amal to be doing this? How have you celebrated your wedding anniversary? What's the best way of showing your loved one how much they mean to you?