Gene Wilder's widow pens powerful essay about his death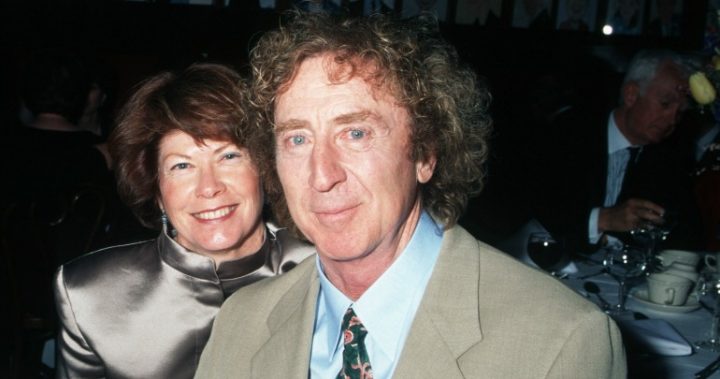 Karen Wilder has described in harrowing detail the years that lead to her late husband's death.
Gene Wilder died in 2016 after a six-year battle with Alzheimer' Disease, during which time Karen was his primary carer. In an essay published on ABC News, Karen wrote frankly about the toll the disease takes on spouses and caregivers.
"I never pictured myself marrying a movie star," she wrote. "I also never saw myself spending years of my life taking care of one. But I've done both. Love was the reason for the first. Alzheimer's disease, the second."
The couple met in 1989 when Gene was preparing to shoot the movie See No Evil, Hear No Evil, in which the character he played was deaf. Karen was the speech pathologist hired to help train him for the role.
"As he always did when he took on a role, Gene wanted to understand his character," she wrote. "He showed up at my office one day in search of my professional advice.
Ad. Article continues below.
"We formed a powerful bond," she continued. "At the time, Gene was married to Gilda Radner, who was in the final stages of ovarian cancer. After Gilda's death, Gene sought me out again. We married a year later and, for more than twenty years, we were one of the happiest couples I knew."
Following his diagnosis in 2010, Gene's health slowly deteriorated.
"The first signs of trouble were small," she wrote. "Always the kindest, most tender man (if a fly landed on him, he waited for the fly to leave), suddenly I saw Gene lashing out at our grandson. His perception of objects and their distance from him became so faulty that on a bike ride together, he thought we were going to crash into some trees many feet away from us.
"I watched his disintegration each moment of each day for six years," she continued. "We still managed to have some good times and to laugh, even at the ravages of the disease that was killing him.
"But there's another particularly cruel aspect to the disease of Alzheimer's, because in addition to destroying – piece by piece – the one who's stricken with it, it ravages the life of the person caring for its victims. In our case, I was that person."
Ad. Article continues below.
A Stanford Medical study from 2002 found that 40 per cent of Alzheimer's caregivers die before the patient because of the physical, spiritual and emotional toll it takes on their health.
"Neither my love, nor science, could save my husband's life," Karen Wilder wrote. "But it's my most profound hope that through research and awareness, others may be spared the experience that killed Gene — and could have killed me, too."
To help raise awareness of Alzheimer's, Gene's portrayal of Willy Wonka will be used in a video campaign for the Pure Imagination Project.
Do you know anyone who's had Alzheimer's or cared for someone who has? Have you had to care for a sick family member?