Elton John reveals rude and disruptive fan caused Las Vegas storm-out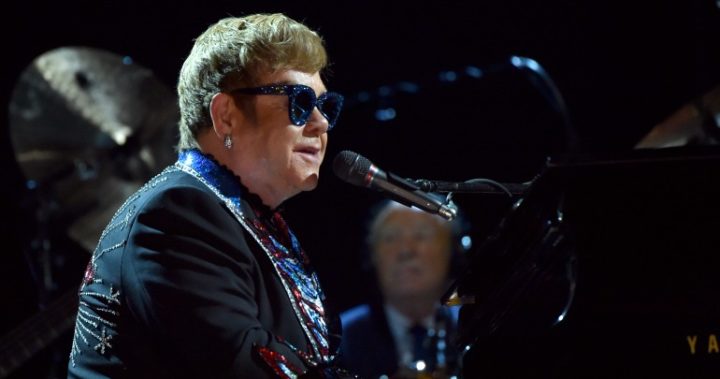 Superstar singer Elton John, has lambasted one "disrespectful" and "disruptive" fan who caused him to storm off stage yesterday during a piano performance in Las Vegas. Elton released a statement on Instagram saying the fan began putting his hands on the piano and touching him after he was told multiple times to stop.
This all happened when the singer invited a handful of fans from the audience to join him up on stage while performing Saturday Night's Alright For Fighting–something the star does every performance.
In a video clip of the incident, posted by TMZ, Sir Elton can be seen becoming increasingly irritated as a male fan in a white shirt nears his piano with outstretched arms trying to touch him and his keyboard.
In the clip, he eventually snaps and tells the fan to "F*** off". Even after his warning, the man continues to tap him on the shoulder and fiddle with his microphone. Elton tries his best to continue with his song but ends up storming out.
His full Instagram statement is as follows:
Ad. Article continues below.
"Thursday night in Las Vegas a fan put his hands on the piano keys while I was playing and continued to do so even after I asked him to stop. He then proceeded to reach over the piano and try to take pictures, completely disrupting the performance. I bring fans onstage every evening when we play 'Saturday Night' in the set, it is always a lovely part of the show where I get to meet them, shake their hands and have them right there with me while I play. They have always been very courteous to the fact we are in the middle of playing a song live. This guy was rude, disruptive and had no care or respect for our show and so I let him know how I felt, then left the stage until they had removed him."
Ad. Article continues below.
In the TMZ clip, Elton returns to the stage once the man is removed and issues a warning to fans. "No more coming on stage on 'Saturday Night'," he said. "You f***** it up."
This incident comes after Elton ran into trouble earlier this year at Caesars Palace when the singer was hit in the face when a fan threw beads on stage at him while singing 'Rocket Man'.
Messages of support for Elton flowed through his Instagram feed, with most commenters angry that the one fan ruined the performance for everyone.
One commenter wrote: "No-one should ever have to put up with rudeness and disrespect, especially when you've been kind enough to share such an amazing experience with your fans."
Ad. Article continues below.
Another thought Elton should have continued performing: "When you've done something as long as Elton has, you learn how to handle a crowd. Do you think the comment to all ticket holders in the crowd that "YOU'VE fucked it up" was a valid remark to make? Grow up. It's only rock n roll. It ain't brain surgery."
In January, Elton announced at a press conference that he would be retiring from touring after one last world concert to focus more on his family.
Do you think Elton should have continued playing? Or do you think he was justified in storming out?